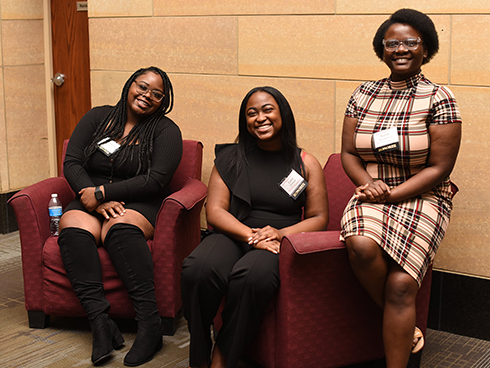 Laila Duncan, (center), a student in Ferris State University's Social Work program, relaxes at the DeVos Place Convention Center in Grand Rapids Friday, Oct. 29, as a guest at The Ferris Foundation For Excellence Benefit. Duncan received an Opportunity Scholarship from The Ferris Foundation. Also receiving scholarships to help meet their education costs were Ja'Qaysha Benson (left) and Naomi Kumwenda (right).
Ferris State University supporters, faculty, staff and students gathered in the Steelcase Ballroom of DeVos Place Convention Center in Grand Rapids, on Friday, Oct. 29, for The Ferris Foundation For Excellence Benefit. This annual event resumed as an in-person gathering after a 2020 virtual edition because of COVID-19.
Laila Duncan, a Social Work major from Eastpointe, pursuing a minor in Public Advocacy, attended the event as a recipient of The Ferris Foundation Opportunity Scholarship. Recipients show academic excellence and the ability to overcome obstacles to pursue higher education goals.
"The Opportunity Scholarship really helped me. My TIP (Tuition Incentive Program) scholarship benefits had diminished after I completed an Associate of Applied Science degree," Duncan said. "This support is very important to my ability to continue my studies."
The scholarship endowment, funded by net proceeds from the Benefit will approach $900,000 by the close of this year. Duncan said attending the Benefit was also a thrill.
"This is a great event for networking. I have been talking to many people," Duncan said. "It is wonderful to meet Ferris alumni here and learn from their experiences."
Being at The Ferris Foundation for Excellence Benefit is common for Automotive Engineering Technology Professor Patrick English. He received his seventh faculty/staff merit grant from The Ferris Foundation in 2021. A $7,000 grant will help English acquire materials to strengthen hands-on learning opportunities for students in alternative fuel and vehicle systems, as taught in the AUTO 480 class.
"To move forward and offer my students experiential learning at the speed it needs to happen, these grants are essential to my work," English said. "My instructional foundation built upon assistance from the Faculty/Staff Merit Grant. The additional financial resources are absolutely critical to that cause."
More than $800,000 in grants have gone to qualifying proposals from faculty and staff to advance the Ferris State University mission.
Alumnus Luke Wyckoff joined friends in the ballroom, reflecting on his Associate of Applied Science degree in Audio/Visual Studies (' 91) and a Bachelor of Science in Marketing/Sales in 1993.
"Ferris did something for me that a lot of other schools would not. It gave me a chance," said Wyckoff, who was among the 450 people in attendance at The Ferris Foundation for Excellence Benefit. "In looking back on my life, it comes down to a couple of great opportunities coming my way. My Ferris experience is definitely one of those."
Today, Wyckoff is a successful business owner who has established three endowed scholarships at his alma mater. He regularly attends Ferris football games and shares his photographic work, and frequently returns to speak to student groups and academic programs.
"I give of my time, talent and treasure, so I am able in a small way to say 'Thank You' to a university who took a chance on me," Wyckoff said.
Other highlights of the program included The Ferris Foundation Director Emerita Stephanie Leonardos, the president and CEO of Grand Rapids-based manufacturer Amerikam, offering a tribute to President David Eisler. Leonardos saluted Eisler's years of leadership at the university and The Ferris Foundation.
"When President Eisler first visited Amerikam, back in 2003, it was very clear that Ferris was blessed with a servant leader who would move Ferris forward in new and creative ways," Leonardos said. "Over the past 18 years, his unwavering support for students, in addition to his steadfast commitment to advancing Ferris' mission and building philanthropic support, has been transformative for the university."
A video thanking President Eisler for his leadership in campus development and philanthropy development was also presented at the Benefit.
Now and Always, The Campaign For Ferris State University reached another milestone, as a $5 million gift from Pharmacy alumnus Phil Hagerman means a $115 million goal has been reached and surpassed, a year early. Finally, alumnus Tim Murphy, the former deputy director of the Federal Bureau of Investigation, assumed his duties as chair of The Ferris Foundation Board of Directors.
A recap video of The Ferris Foundation Benefit is also available for viewing.