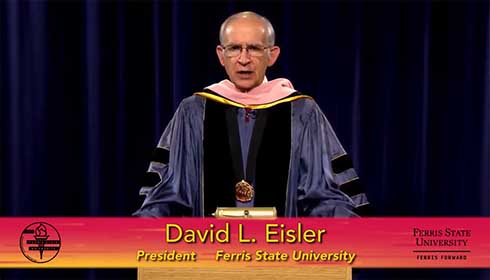 Ferris State University launched its Spring 2021 virtual commencement ceremonies on Saturday morning, May 1, through videos uploaded to the Ferris State Video YouTube channel. Highlighting this spring's pre-recorded ceremonies were words of celebration, encouragement and wisdom offered to Class of 2021 members, Ferris' newest alumni.
This spring, Ferris awarded academic degrees to approximately 2,000 students to wrap up the 2020-21 academic year. Among the individuals opening the ceremonies and addressing the Class of 2021 were President David Eisler and Board of Trustees Chair Amna Seibold.
"It is a true honor to stand before you, the Class of 2021," Eisler said. "During this time of national challenge, it is important to pause and honor you. I am pleased that you have joined us today to celebrate and reflect on your accomplishments at Ferris State University."
Further, Eisler saluted the resilience of the 2,000 members of the Class of 2021 in enduring challenges created by the COVID-19 pandemic and more.
"As graduates, you represent the collective hopes and dreams of our institution. In your educational journey, you have overcome obstacles and challenges experiencing both the highs and lows that are part of earning a college degree," he said. "Through your hard work, sacrifice and dedication, you have made it to this significant milestone where one journey ends and another awaits you."
On behalf of her fellow Board of Trustees members, Seibold saluted the Class of 2021, hailed its focus and resolve, and expressed excitement for the difference that Ferris' newest graduates will make in the world.
"The fact that I am speaking to you virtually instead of in a large gymnasium, surrounding by your family and friends, well, that's just indicative of how different a year this has been," Seibold said. "I greatly value a college education, and your Ferris State University experience will be an important part of your life, forever. It's molded you and molded your future. What you've learned at Ferris is going to change the world forever."
Eisler encouraged the newest graduates to consider their journey, including those who helped make this moment possible.
"At a time like this, you need to know that your success is built upon the collective efforts of so many people who care about you and who take great pride in your growth and development," he said.