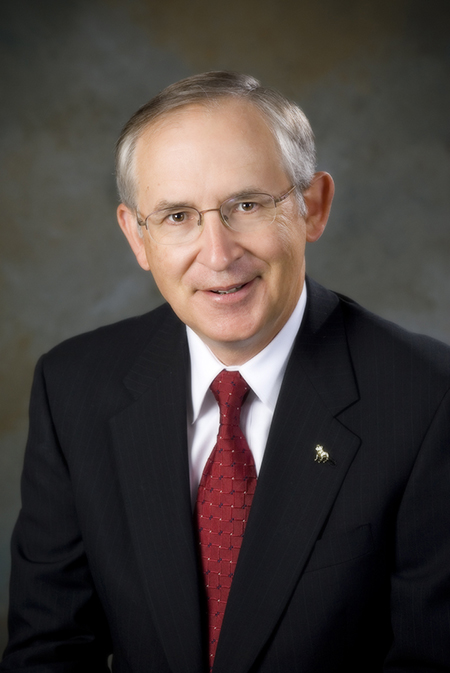 Ferris State University President David L. Eisler announced today he will retire as the University's 18th president in June 2022, capping a 47-year career in higher education. He began his presidency at Ferris in 2003 and after the university's founder, Woodbridge N. Ferris, is its longest serving president.
Under his leadership, Ferris has witnessed unparalleled growth and advancement over the last 18 years. Student retention and graduation rates have sharply increased, the latter by 65 percent. Fifteen major building projects totaling $400 million were begun during this period, including the former Federal Building in Grand Rapids, the Michigan College of Optometry building, the University Center, the newest residence hall on campus, North Hall, and most recently the Center for Virtual Learning. During this time, the university's presence has dramatically increased across Michigan, providing access to a Ferris education through partnerships with 22 community colleges across the state.
To further support students and the university, Eisler has led increased philanthropic efforts, with The Ferris Foundation's endowment growing from $18 million to $100 million. The university is in the final stages of its first-ever $115 million comprehensive campaign. In 2019 he and his wife, Patsy, established the Norris and Irene Johnson Scholarship Endowment to assist former foster care youth pursuing a bachelor's degree at the university.
Eisler is an active community and educational leader, serving currently as chair for the Midwestern Higher Education Compact and on the boards of the American Association of State Colleges and Universities, the Grand Rapids Symphony, the Michigan Association of State Universities (MASU), Michigan Campus Compact (MCC), the Michigan Nonprofit Association (MNA), Michigan Works! West Central, Talent 2025 and the Michigan United Way. He has also served as board chair for MASU, the MNA and the university's two sports conferences, the Great Lakes Intercollegiate Athletic Conference (GLIAC) and the Western Collegiate Hockey Association (WCHA).
In 2013, Eisler was the inaugural recipient of Grand Rapids Business Journal's Newsmaker of the Year and in 2014 Ferris State University was the first university to receive the Uncommon Greatness Award from the Grand Rapids Chamber of Commerce. He is also a member of the University of Michigan School of Music, Theatre and Dance Hall of Fame.
Amna P. Seibold, chair of the university's Board of Trustees, said the university is a stronger, greater institution today because of Eisler's hard work and dedication to Ferris.
"President Eisler's remarkable tenure has encapsulated many successes and challenges for higher education, and his vision and commitment to Ferris State University have been unwavering," said Seibold. "My fellow board members and the university community appreciate his strong leadership and advocacy for higher education, and will join me in offering Dr. Eisler our deepest gratitude for his service to Ferris."
In making the announcement to the university community, Eisler shared his appreciation of the opportunity to serve as president.
"Working at Ferris State University is a privilege, and it has been my honor to serve as president. This is a great university, with a unique and special mission, one that truly changes lives," said Eisler. "When I speak with our alumni I often hear the phrase, 'if it weren't for Ferris...' My experience at Ferris has been so much more than I could have ever imagined. While I may be retiring, I will always be a Bulldog."
Seibold said a search for the university's 19th president would begin in the coming months.