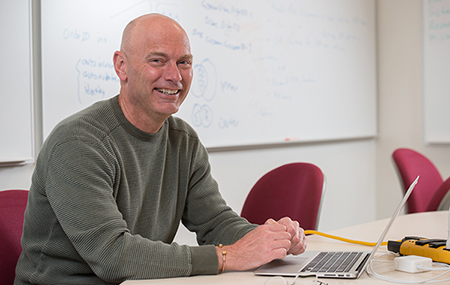 LANSING - The Department of Attorney General has entered into a Memorandum of Understanding (MOU) with the Center for Cybersecurity and Data Science at Ferris State University, Attorney General Dana Nessel announced today (March 24).
The Department of Attorney General regularly conducts investigations that involve issues of cybersecurity and information technology. The Center for Cybersecurity and Data Science (CCDS) at Ferris State University (FSU) is comprised of experts in the field of cybersecurity. The MOU will allow the CCDS to provide volunteer consulting services to the Attorney General's Office to help combat crime. The CCDS is comprised of faculty from FSU's Information and Security Intelligence program.
"This partnership is a unique opportunity for my office to augment our resources to fight crime across all platforms," said Nessel. "Sophisticated criminals use technology to perpetrate crimes that range from consumer exploitation to domestic terrorism. I am fully committed to leveraging available resources in the field of cybersecurity to pursue and prosecute those criminals."
The Information and Security Intelligence (ISI) program at FSU is the only accredited cybersecurity program in Michigan. The program is a National Security Agency (NSA) Center of Academic Excellence in Cyber Defense and was the first university program in the United States to be designated a Department of Defense Center of Digital Forensic Academic Excellence.
The program includes one faculty member who is embedded in the Michigan State Police Cyber Crime unit; two who are licensed professional investigators in the field of digital forensics; and a faculty member who is part of the Michigan MIC3, which is the State of Michigan's Civilian Cyber Corp organization.
The ISI program is lead by Greg Gogolin. Gogolin was the initial author of both the ISI undergraduate and graduate degree programs, which are ranked in the top 25 nationally. He is a Distinguished Professor and Fulbright Scholar (Universidad de Chile), and has taught in Latin American, Asia and Europe.
"We appreciate the opportunity to work with the Attorney General's office. I admire the determination that Attorney General Nessel possesses, particularly in the current environment. The challenges in cybercrime are significant, and we want people to feel confident that cybercrime will not continue unabated," said Gogolin.
Gov. Gretchen Whitmer approved funding for a new building at FSU to house the Center for Virtual Learning in 2020. The Center will include secured evidence rooms, examination rooms, presentation rooms and Faraday rooms. Faraday rooms are secured from network and radio transmission, which is necessary when performing examination and experiments on things such as cell phones, mobile devices and malware analysis. This will be the only Faraday room in the state of Michigan.
This press release is from the Department of Attorney General.