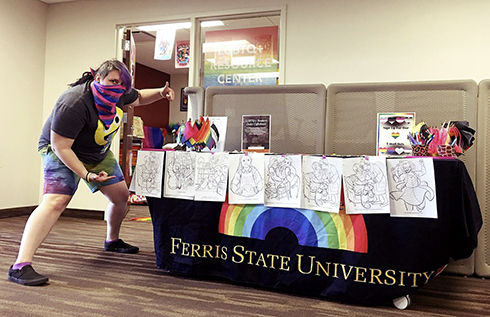 Asher Wasshenova, a Nuclear Medicine Technology student and employee of the LGBTQ+ Resource Center at Ferris State University, keeps a swag table stocked to promote Pride Month. The 2SLGBTQIA+ Picnic will be held from 4 to 6 p.m. Sunday, June 27, on the Robinson Quad (North Quad).
With an eye on a broader Pride Month celebration in years to come, Ferris State University's Lesbian, Gay, Bisexual, Transgender and Queer or Questioning Resource Center is promoting its June 2021 activities. The goal is to provide a welcoming and inclusive community for students, faculty and staff.
LGBTQ+ Resource Center Director Sarah Doherty said the month's featured event comes Sunday, June 27, from 4 to 6 p.m., as the 2SLGBTQIA+ Pride Picnic is open to visitors on the Robinson Quad (North Quad), or virtually, using a Zoom link.
"There will be a tent on the quad, tables and chairs for our guests and Ferris Catering is providing our single-serve food and snack packages," Doherty said. "With several members of our participant family being immune-compromised, we ask all who attend to wear masks and follow social distancing guidelines. Rainy weather in 2019 saw us hold our inaugural Pride Picnic in the Interdisciplinary Resource Center (IRC) lobby, but it was a good gathering to establish the event."
Doherty said participant safety is another reason for Zoom links. It allows people outside the Big Rapids area an opportunity to join the event.
"We plan to offer a comfortable, low-key event for all those who are interested in joining us," Doherty said. "The supporting of Zoom guests will be an opportunity for those in person at the picnic. We will provide bubble wands, a 'fashion show walkway' for those who want to show off their best queer and trans pandemic fashions, and a table of pride swag to make for a memorable event. Participants can also get Polaroid photos, as they pose with their LGBTQIA+ pride flag from our collection."
University Center restrooms will also be accessible during the Pride Picnic to support participant health and safety.
Doherty also said the LGBTQ+ Resource Center has a schedule of weekly and alternate week activities on its Discord server, complementing its Pride Month offerings.
"Each Thursday, we offer 'Queer for your Ears,' a podcast review program, which includes a group discussion," Doherty said. "On Fridays, we look to get the weekend started right, with our 'FriGay Gaymes, which run from 3 to 5 p.m. Every other Tuesday, there is 'Love Like Love,' a one-hour program beginning at 6 p.m., designed to support those who are bisexual or biromantic, pansexual or panromantic, fluid in their gender identity or questioning at this time. We can offer our participants identity-specific support during this program. On alternate Wednesdays, all are welcome to our virtual coffeehouse on Discord, which is offered from 4 to 6 p.m. Finally, when the Center for Leadership, Activities and Career Services is open. Our Pride Swag table is full of interesting items, just outside our center and we welcome all visitors there."
Doherty said a virtual discussion on Thursday, June 3, hosted by the Big Rapids Social Equity Initiative Community Engagement Committee, boosted Pride Month activities as the Zoom meeting aired on Facebook Live.
"A larger, community-based Pride Month celebration is in the discussion stage for 2022," Doherty said. "We are encouraged by the interest from those who have spoken up to support a more inclusive Pride Month in town and on campus. We encourage anyone wishing to join the discussion to check out their Facebook Group for more information."
If you have a disability and require accommodation to take part in Pride Month events, contact Sarah Doherty at (231) 591-2658 or by email to request accommodations, at least 72 hours in advance.
Ferris is an equal opportunity institution. For information on the University's Policy on Non-Discrimination, visit ferris.edu/non-discrimination.