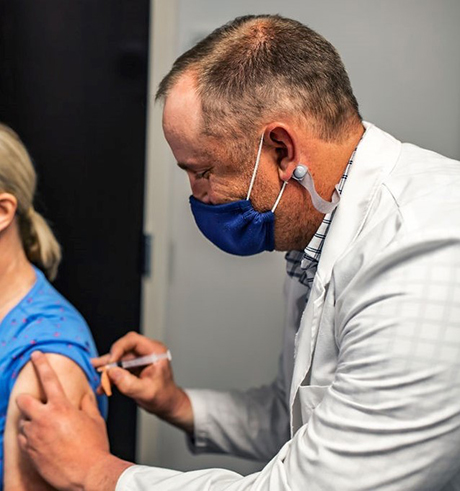 Jeff Stull, a 2007 graduate of Ferris State University's Doctor of Pharmacy program, has supported COVID-19 vaccination efforts in his hometown of Paw Paw, collaborating with the Van Buren-Cass County District Health Department.
A 2007 graduate of Ferris State University's Doctor of Pharmacy program is easing up on his active 2021 schedule as Jeff Stull and the Paw Paw Pharmacy staff made themselves available to serve as COVID-19 vaccine distributors for their Van Buren County community.
Stull said he began making inquiries about receiving the vaccine for his hometown around New Year's Day.
"Our first clinic was I believe on Jan. 27," Stull said. "There were a significant number of steps required to secure those doses, which we began distributing in our pharmacy and at off-site locations."
At the time of the interview for this story, Stull and his team distributed more than 29,000 doses of vaccine, with the Van Buren-Cass District Health Department focusing more than half of their allotment to this program.
"Our biggest operational hurdle was keeping a full-time pharmacy going while providing an adequate team for our vaccination clinic schedule," Stull said. "All the credit goes to my staff for doing what was required each day to serve our customers during this time. I could not be prouder of our response to this challenge."
Stull said he applied principles the pharmacy had employed during flu shot clinics over the years to their COVID-19 vaccine distribution.
"That experience was valuable to process and serve the residents who signed up for our clinics," Stull said. "Initially, the VBCHD asked if we might handle a clinic with 100 to 150 residents. We told them that kind of operation could be managed in just a few hours."
Stull added that Paw Paw Pharmacy's days of double-duty service to the community are becoming few.
"Where we had 300 people respond in the first three minutes, for our first clinic during the winter, the demand is considerably less at this time," Stull said. "Our familiarity with a good number of the people who came through our clinics was an asset in meeting the goals of this operation. While we look to relax our stance in the short term, our pharmacy staff can use the experience of the last several months to be ready for whatever developments are needed so that we can promote the health and safety of this area."