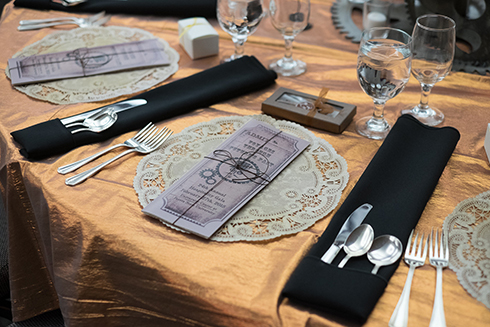 A Seattle, Washington-based and privately supported website ranks the Ferris State University Hospitality Management program among its nationally top 50 choices for bachelor degree opportunities to learn about the field.
Intelligent.com cited the Hospitality Management program, in the College of Business, for student scholarship availability in its Bachelor of Science degree. Amy Dorey, an associate professor and program coordinator, said the program benefits from a partnership with the Michigan Restaurant and Lodging Association and collaboration with similar national organizations. COVID-19 prompted changes in crucial industry elements. Department faculty saw and met the challenges that developed accordingly.
"At a time when our faculty faced unprecedented challenges in maintaining quality engagement and education, the Hospitality Management team focused on our core values of innovation, quality and leadership to keep our students moving forward," Dorey said. "In the fall semester, our 'Bulldogs To Business' Annual Advisory Board Conference went fully virtual under the guidance of our faculty team. We shifted our skills in teaching online to delivering a conference online. Advisory board members from across the country took part in panels and presentations on the pivot that our industry accomplished during COVID. What was traditionally a face-to-face gathering saw each member share how their segment of the industry was shut down. what happened as a result and the innovative approach they took to moving forward."
Dorey, who also advises Ferris' Professional Convention Management Association registered student organization, said the Hospitality Management faculty saw these graphic industry changes as a moment of opportunity.
"This is our chance to evaluate process, streamline systems, improve sustainable initiatives, advance profit margins, and redesign how we engage our guests and provide them value at each step of their experience," Dorey said. "Students understand this is their time to develop advanced skills in adaptation, resilience and grit. These will be the hallmarks of their future success as leaders in our industry."
Dorey added that post-pandemic demand seems to point toward a travel, lodging, and event market that exceeds forecast for the rest of this year, and 2022, which should benefit Hospitality Management graduates, continuing students and those considering this curriculum.
"I receive daily phone calls and emails from employers looking for interns and full-time supervisor and management positions," Dorey said. "It is an incredible time to be entering the industry, so for those willing to flex their skills in agility, adaptation, and innovation, the sky is the limit."
Intelligent.com evaluated each program based on estimations of flexibility, faculty, course strength, cost, and reputation. They devised an "Intelligent Score" for each program on a scale from zero to 100. The Ferris Hospitality Management program earned a score of 71.60, joining a roster of honorees that includes Penn State University, University of Nevada-Las Vegas and Michigan State University, which was the first business-based hotel training course.