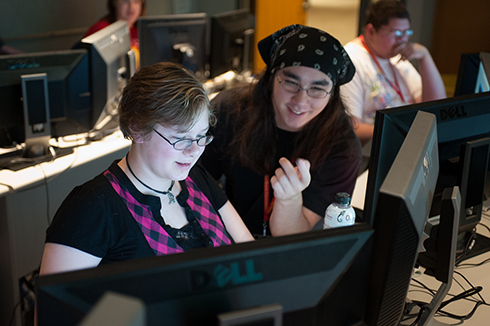 As Ferris State University's Digital Animation and Game Design program nears its 20th year of existence, a year of change holds a constant as it continues to rank among the nation's best opportunities for game design education.
Animation Career Review, an online resource to support students seeking careers in animation, game design, graphic design, digital art and related fields, has included Ferris' DAGD program in five separate rankings, including 10th best in the Midwest and 16th nationally, among all schools offering Bachelor degree-level learning in Game Design.
David Baker, an assistant professor in the School of Digital Media, is the DAGD program coordinator. He said students responded well last year, virtually, to offer their projects.
"I am seeing some of the best imagery I have ever seen this semester," Baker said about the Spring 2021 term. "Students are adapting very well, being proactive. I am glad we have been able to keep up this stature because Ferris' curriculum has a broader emphasis when compared to the specific elements where Animation Career Review focuses. We continue to adjust our instruction because the industry is becoming nimble, thanks to the limitations of COVID-19. Our students have proved that they are most responsive and adaptable."
Baker said operational norms for DAGD students and the industries they will serve have undergone significant changes during COVID-19.
"Our students have sought to achieve a balance between working in what had been the industry norms and developing new ways to learn and accomplish projects," Baker said. "The professionals face these same obstacles but were able to change and thrive. Pixar's team working on the 2020 'Soul' project finished their production on home workstations, with only a few members processing the image generation required by overseeing the 'render farms' at their headquarters. Our graduates may find their way to industry leaders who have moved away from brick-and-mortar offices or complexes, and I have no doubt they will still contribute and excel in that environment."
Other Animation Career Review rankings for the Ferris program included top 25 placement among public schools and colleges, top 50 status nationally and a top-three honor among Michigan schools.