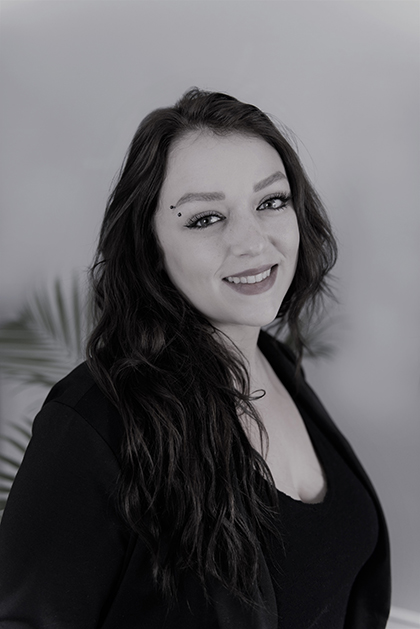 Amanda Wyman
Amanda Wyman, a recent graduate of the Interior Design program at Kendall College of Art and Design at Ferris State University, has been included in the inaugural Metropolis Future 100 roster published by the Boca Raton, Florida-based Sandow Media Company.
Fifty Architecture students joined the 50 selected as the top college talent in Interior Design who completed their degrees at various colleges and universities in the U.S. and Canada. Wyman, a Wyoming native, said KCAD Professor Lee Davis suggested she submit her portfolio for consideration.
"I immediately agreed, and Lee wrote a letter of recommendation, which I believe was a big part of my earning the award," Wyman said. "I am a first-generation college student, so I have always been eager to apply for scholarships and competitions throughout my time at Kendall. The deadline to apply was late November. I graduated just two weeks later, so I had to balance finishing my classes by providing a portfolio to Metropolis worthy of winning. It was a struggle for me because the expectations at Kendall are very high, and my goal was to achieve the President's List during my last semester."
Wyman learned of her collegiate and published honors around a month after her graduation. As Sandow is a multimedia concern with various brands, Wyman's hand-rendered image of a post-COVID workplace design solution was included in a DesignTV Sandow video.
"My LinkedIn acknowledgment of this award has been shared by multiple professionals in my field and elsewhere," she said. "It has been seen by thousands of users of that platform, and I have my hand-rendered image of a post-COVID outdoor patio in a magazine. I feel confident this has helped accelerate my career and will help further establish my talent in the field of interior design."
As Wyman continues her pursuits, she said the faculty who helped her achieve so much at KCAD had not forgotten its prodigy.
"It has now been six months since I graduated, and I am still getting emails from my professors asking for updates and sending relevant job opportunities that have a personal fit," Wyman said. "These gifted people could be offering their talents at any firm they might like, yet they choose to mold and perfect upcoming generations into the interior designers of the future. If you have a passion for aesthetics, sustainability, space planning, or architecture, the professors at KCAD will guide you to your full potential."
Below are samples of Wyman's work, linked to from the KCAD Facebook page.