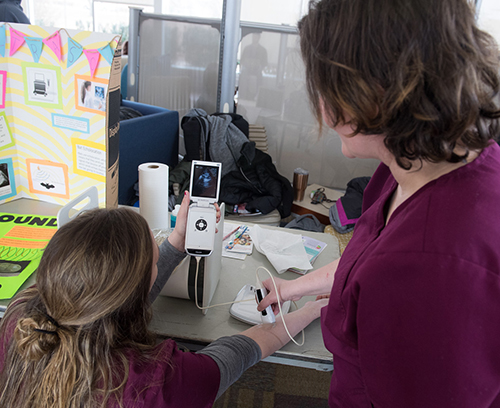 A nine-credit certificate program offered through Ferris State University's College of Health Professions leads a national list of learning options in Diagnostic Medical Sonography. This news comes from a recent ranking distributed by the website Accredited Online Colleges.
Associate Professor of Diagnostic Medical Imaging Michelle Weemaes is the College of Health Professions' faculty chair for Diagnostic Laboratory and Therapeutic Sciences. Weemaes said the university developed its Vascular Ultrasound Certificate in response to modern healthcare demands related to medical insurance companies' reimbursement policies.
"Certification as a registered vascular technologist has become a more requested credential, over the years," Weemaes said. "It is now an important procedural and professional consideration, which finds our alumni with associate of applied science degrees in Diagnostic Medical Sonography and other bachelor of science degree holders seeking this designation. Since these candidates are busy with their roles in hospital laboratories and clinical operations, we have developed this learning so that they can acquire their certificate through online studies."
Those who are eligible to pursue the Vascular Ultrasound Certificate from Ferris must be professionals with credentials from the American Registry for Diagnostic Medical Sonography (ARDMS), the American Registry of Radiologic Technologists (ARRT) or both registries. Applicants also have to show they work as sonographers, at least four days a month.
"We are glad to help practicing sonographers take up this learning so that they can build their skills in a significant area of their profession," Weemaes said.
Accredited-Online-College.org develops its rankings using information from the United States Department of Education's National Center for Education Statistics. Statistics illustrating the breadth of programs, the student-to-faculty ratio and a "Quality Value," or estimation of a student's return on investment factor, into the assessments made in the website's reports.
Students interested in Ferris' Vascular Ultrasound Certificate should contact Advisor Lori Jenema, in the College of Health Professions Dean's Office, or by calling (231) 591-2733.