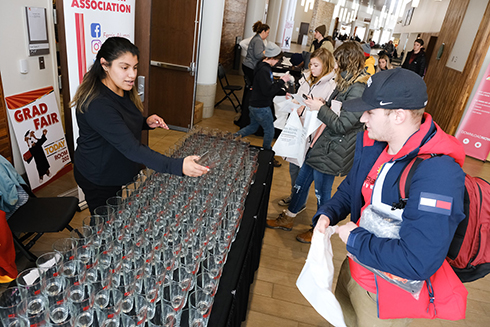 Graduating Ferris State University students preparing for the Spring 2021 virtual commencement exercises on Saturday, May 1, can participate in any of four Grad Fair offerings beginning Tuesday, March 2.
Assistant Director of Alumni Relations Ben Withey said each Grad Fair session runs from 10 a.m. to 4 p.m. Tuesdays and Thursdays, through Thursday, March 11, in five University Center rooms and the bookstore.
"With multiple room locations and the four days of availability, we can accommodate COVID-19 guidelines," Withey said. "We are excited for the opportunity to see and congratulate those in the Class of 2021 while offering them a one-stop prospect to acquire their graduation regalia, register for free prizes, and learn about pursuing fellowships and scholarships for graduate school by speaking with the Office of Multicultural Student Services."
Grad Fair participants must wear masks. To further ensure safety, participants must follow University Center room occupancy recommendations and social distancing guidelines.
"The First-Generation Student Services operation of Retention and Student Services will provide graduation cords and the chance to share educational experiences, and Career Services staff will be available to review resumes, cover letters and portfolios while detailing other resources and assistance available to graduates," Withey said. "Our staff will welcome students who pick up their complimentary Ferris glass as part of Grad Fair, where we can explain a variety of benefits available through the Alumni Association."
Other Grad Fair participants include Ferris Photographic Services, the University Bookstore, The Ferris Foundation and The Commencement Office. Exit counseling and financial services information are available through a Grad Fair webpage link.
"There will also be drawings for gifts, for those who fill out a survey on the ferris.edu Grad Fair page, along with those who like the Alumni Association on Facebook, Twitter or Instagram," Withey said. "Reviewing fair information and our schedule online should help graduates plan their visit."