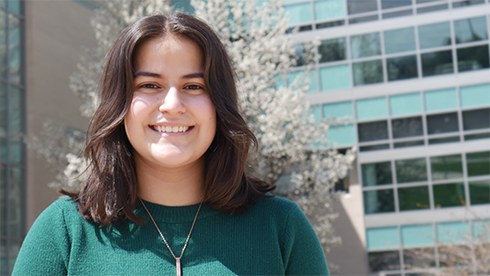 Former Hispanic Student Organization President Veronica Mascorro will graduate from Ferris State University Saturday, Dec. 18, with a Bachelor of Science degree in Journalism and Technical Communication.
The way forward from Thornapple-Kellogg High School did not present many absolutes for Middleville native Veronica Mascorro. Her progression as a child in a family with no college graduates to becoming a campus leader at Ferris State University is the product of searching for and recognizing opportunities on the road north to Big Rapids.
"As I went through high school, I had no definite plans regarding my educational path," Mascorro said. "I did see the value of beginning my college learning through Ferris' dual enrollment agreement with 'T-K,' and I was impressed that they would show interest in and invest in me."
As she approached graduation from Thornapple-Kellogg, in 2018, Veronica did a broad search and applied to several colleges and universities, which brought her another step closer to the Ferris campus.
"Ferris was the leader, in terms of showing their commitment to me, as a potential student," Mascorro said. "Their assistance package was the best offer I received, and knowing the dual enrollment credits I had earned had full value there helped me to make the choice and become a Bulldog."
Another opportunity accepted was participation in the Promesa Summer Success program before arrival at Ferris for the 2018-19 academic year.
"I would make the drive to Ferris-Grand Rapids four days a week, for classwork that added onto my college credits, before arriving in Big Rapids," Mascorro said. "There were weekly field trips to learn about our region and community. I enjoyed those and the chance to connect with others in the Promesa program. It helped me come to Ferris with greater confidence and experience."
As a result, Veronica arrived in Big Rapids with a leg up her first year, having the ability to make a bold choice in terms of her intentions for her course of study.
"We did not have a school paper or any publications to get involved with at 'T-K,'" Mascorro said. "In a way, my choice of Journalism/Technical Communication was somewhat random, but in that summer before starting at Ferris, I was encouraged by a Promesa mentor to apply for that program and to seek a position with the Torch. I joined the student newspaper as a lifestyle reporter, moved on to cover campus news, and later served in roles addressing web presentation and social media promotion of the paper."
Mascorro's involvement with the Promesa program continued as she became a Promesa Scholar for her freshman year and continued that role in the 2019-20 academic year. Veronica also found her way into the Sigma Lambda Gamma multicultural sorority. Joining the Chi Epsilon chapter was a catalyst for involvement and advocacy, where she demonstrated a knack for taking action and accepting a hectic schedule.
"I was glad to have taken every opportunity that came my way," Mascorro said. "I don't see service on organizing committees for events like Latinx Heritage Month as being an obstacle to my success. Participating in community service is, I believe, part of providing my fellow students with a valuable campus experience. It takes time to staff an information table, and it got crazy sometimes on Wednesdays when I had as many as six virtual meetings over the course of the day. I believe I thrive in making that kind of contribution. It certainly keeps me active and going forward."
Her good works have received due notice, as Veronica was named a Rising Star during the Center for Leadership, Activities and Career Services' 2019 Torchbearer Awards ceremony. She also had a one-year term as president of the Hispanic Student Organization and became a member of the National Society of Collegiate Scholars.
"I have been so blessed with opportunities to grow and learn in my time at Ferris," Mascorro said. "I feel it is important that I also give back to others."
Obstacles have presented opportunities to bring her closer to a Bachelor of Science degree from the College of Arts, Sciences and Education.
"Early in 2020, I was working with the Hispanic Center of West Central Michigan, actively seeking a summer internship," Mascorro said. "The contacts and interviews had me thinking a local television station was my destination, but the COVID-19 pandemic put an end to that. My contact at the chamber persevered, and I applied for and received a national fellowship with the Association of Latino Professionals for America as part of their inaugural cohort."
The fellowship aligned her with Ally Financial, the Detroit-based lender established more than a century ago as General Motors Acceptance Corporation.
"The fellowship program and my virtual interactions with Ally's marketing department were very valuable experiences," Mascorro said. "I made good connections with Ally, which led to their offer of a 2021 internship, which I began in May."
Veronica's efforts for Ally were virtual as a public relations intern.
"It still served as a great experience," she said. "My highlights included having a significant role in the redesign of their newsroom website while growing the number of ethnic contacts on the corporate media list. I also had great latitude to accept opportunities for professional development. With my internship being virtual, I had a level of involvement across Ally's corporate structure that provided a much broader experience than if I had simply been serving in the Detroit office."
Though pleased to be offered a position with Ally, Veronica chose another path following her graduation.
"I have decided to continue my learning in graduate school," Mascorro said. "I am currently reviewing options and applying to various schools. My priority on my education can continue, through this decision."
Her years of experience with the Torch have Veronica feeling confident about what her future could present professionally.
"Being part of the newspaper's staff and administration has been a most collaborative experience in learning, both in helping me to determine my course and to learn where I can build my skills and improve as a writer," Mascorro said. "Assistant Professor Garrett Stack is the adviser to the Torch. I learned so much from him, both as an instructor and through my role with the paper. Since his first class, he has shown me so much about writing, which inspired me to immerse myself in this field and determine how I can improve as I approach my career goals."
Another aspect of the learning process for Veronica and her peers on the Torch was to navigate their production, despite the difficulties the COVID-19 pandemic presented.
"It proved to be an obstacle before the Fall 2020 semester, as we had to pause our schedule with the sudden shift away from campus and our normal production routines, when the pandemic was becoming dominant," Mascorro said. "While that put us in a most difficult place to start the year, we rallied as a group and essentially rebuilt and rebranded the publication, with a new format and a reliance on a deep and well-versed staff. Each of our writers and staff members contributed to support and produce a quality publication for the campus and the university."
Mascorro said one of the first steps in the transition from being a college student to embarking on her life after Ferris came with the final virtual staff meeting for the Torch, which included their announcements of awards and honors.
"Working at the Torch played such a big role in who I am today," Veronica said. "It allowed me to make many contacts on campus with students and others, who brought me into several different service and learning opportunities. I made great progress as a writer and have many articles in my portfolio that give me a sense of pride. That work continued into the fall semester when I contributed a story on Latinx Heritage month. I concluded my official roles with the newspaper as the Social Media Manager, with the close of Spring semester."
As the first in her family to graduate from college, the advance to commencement is a chance for all the Mascorros to consider the moment and celebrate.
"My education has been a point of emphasis and pride for my entire family," Veronica said. "I have an older brother, Kevin, who is working while he continues toward his Construction Management degree from Ferris, a 17-year old brother who is in high school, who sees Ferris as his first choice while weighing his options, and my eight-year-old sister is really focused on coming to study at 'the one with the Bulldog.' She's talking about five different programs and career paths, including becoming a veterinarian."
The Mascorro family looks at Veronica's graduation as an accomplishment they can all enjoy, while Veronica has a bit of reflection to go along with her anticipation for the event.
"COVID-19 has transformed my story in a variety of ways, the biggest impact being in university life," Mascorro said. "Things were so different when we came back to campus, but I feel this semester was the chapter I needed to complete my undergraduate career. I am so excited to participate in commencement, especially after all the hard work I put into getting where I am today. Being able to walk across the stage during commencement feels like the final piece of the puzzle in my journey toward my degree. At times, it does not feel like I am about to graduate or that I am experiencing my last moments as a student on campus, but I know the second I walk into Wink Arena that Saturday, it will hit me like a ton of bricks. I will finally feel ready to move on to the next stage of my life."
Click Fall 2021 commencement for more information about the ceremonies on Dec. 18, 2021.