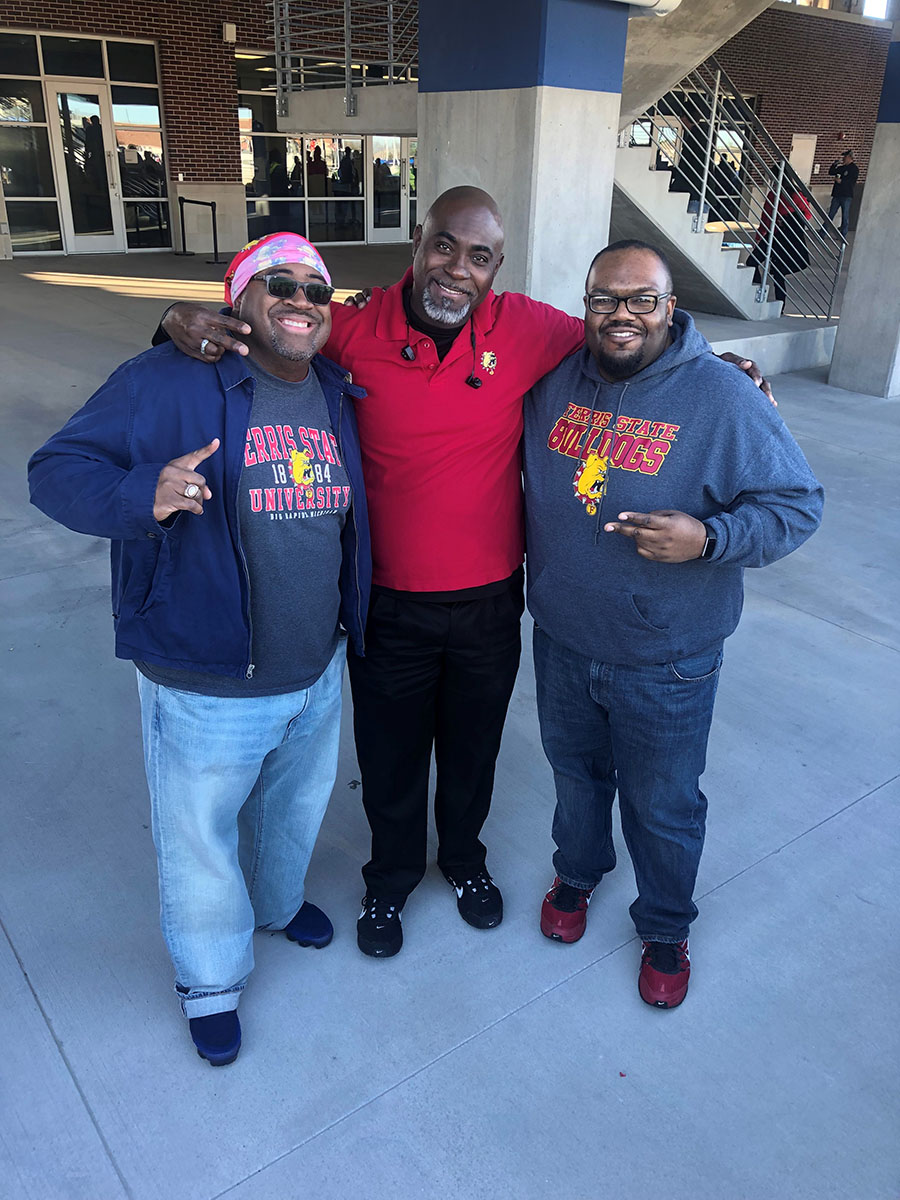 Chris Pulliams (left), a 2017 inductee to the Ferris State University Bulldog Athletics Hall of Fame returns to McKinney, Texas Saturday, Dec. 18. The Alumni Board of Directors member and standout 1990s running back holds high hopes for a Ferris win in the NCAA Division II football final against Valdosta State of Georgia. Also pictured are Bulldog football alumni Mitchell Anderson (middle) and Leon Lynn (right). (Photo courtesy Chris Pulliams)
The allure of a first national championship for the Ferris State University football program is strong for many supporters. It is arguably strongest for those who put pads and cleats on to compete for the Bulldogs in past seasons.
As the NCAA Division II National Championship game plays out in McKinney, Texas, on Saturday evening, Dec. 18, former Bulldog players living in Big Rapids, Grand Rapids and out of state will be on hand with teammates from past eras when winning seasons and playoff appearances were among their accomplishments.
Big Rapids native and former Ferris receiver and punt returner Bill Scheible walked on to join Ferris' football program and now is a member of the Bulldog Athletics Hall of Fame.
"It was 48 years ago that I joined the program after serving in the military," Scheible said. "I will be joining with a few of my teammates who played for Nick Coso, namely John Baylis, Steve Duchon, Freddie Kirkland, Lonnie Lykes and John Sonntag."
Scheible is a regular on the sidelines of Top Taggart Field and Ferris' opponents on the road.
"With the abilities of Ferris' quarterbacks, the depth of the offensive line and the defensive unit performing as they have, we are all excited for the game," Scheible said.
Another hall of famer, Chris Pulliams, of Kentwood, will take in Saturday's contest with friends and teammates who played for former head coaches Keith Otterbein and Jeff Pierce and helped earn Ferris' first opportunities on the national stage.
"I will travel with David Nelson, who still holds Ferris' record for most punt return yards in a game (240, on 12 returns, Oct. 2, 1993) and Jeff Pernie, who was not on the team but was a fellow resident assistant," Pulliams said. "We will meet up with Ray Wilson, a great receiver from our era who lives in Atlanta. We are all still good friends."
The Bulldogs made their first NCAA Division II semifinal in 1995. Pulliams said the program's regular ascent to that game in recent years has football alumni actively interested in the success and potential of this year's playoff run.
"We have a group text, where we keep each other informed about all the events available to us in McKinney this weekend," Pulliams said. "I was also here for the first championship game appearance in 2018, which was an unbelievable game. You have to tip your cap to Valdosta State in that one.
I keep thinking about how current coach Tony Annese can push the program to a new chapter by getting his 101st win at Ferris in the NCAA Division II National Championship game. Tony has done so much for the team, getting them to play so unselfishly. The receivers do all they can to block for quarterback Jared Bernhardt on his runs. The offensive line is dominant and the special teams and defense have risen to the occasion. Each phase of their game is very impressive."
Another player from the 1990s will be among friends in McKinney at the Ferris-Valdosta State game, but Brian Carmody's ownership and management group for Buffalo Wild Wings outlets also plan to provide patrons a rich opportunity to enjoy the championship contest across Michigan.
"We have watch parties at our outlets in Big Rapids, Grand Rapids, Mt. Pleasant, Lansing, Saginaw, Rochester and Canton, where the action will be shown on big screens," Carmody said. "We are very thankful for former Bulldog Jake Daugherty's efforts to promote this event through athletic advancement. We have 51 outlets in total and the Ferris-Valdosta State game will be shown at each of them."
Carmody lives in Washington Township, near Rochester and his brother, Jeff, are former players and financial supporters of the Bulldogs' program, who return to McKinney with friends and fervent hopes of celebrating a victory in the championship game.
"We got into the process of booking our flights and accommodations at halftime of the semifinal contest against Shepherd," Brian said. "Hall of Famer Monty Brown and Cody Mattson are other former players we will gather with there. I love that this is a rematch against Valdosta State so that they can be paid back."
The NCAA Division II football final kicks off at 9:03 p.m. Eastern Standard Time Saturday, Dec. 18. Click NCAA Division II National Championship for more Ferris information.