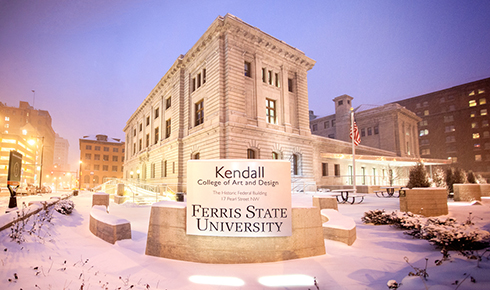 The Fed Gallery of the Kendall College of Art and Design of Ferris State University will host "Are Your Company Contracts Insured?" on Wednesday, March 18, in Grand Rapids. The morning seminar is sponsored by the Upsilon chapter of Gamma Iota Sigma, the national risk management and actuarial science fraternity, and net proceeds from the event will support student travel to professional conferences.
Ferris State University's Gamma Iota Sigma Upsilon chapter will sponsor a seminar, "Are Your Company Contracts Insured?" The seminar will be in the Fed Gallery of the Kendall College of Art and Design in Grand Rapids, Wednesday, March 18.
Risk Management and Insurance Program Coordinator David Brown said the featured presenter for this event, Lennie Morgan of Corporate Protection Group, in Brighton, has graciously donated his time and service that morning.
"This allows us to provide participants a highly-regarded industry expert with decades of experience, in regard to contractual language for indemnity and insurance requirements, and the mechanisms for validating those requirements," Brown said. "The agents, brokers, lawyers and insured parties who must review, write or execute contracts and leases will gain valuable insights from his presentation. Mr. Morgan's stepdaughter, Jaclynn Tolfilski, is a senior in RMIN, and his support and involvement is a great asset for the seminar participants, our chapter and the program."
Those who register for the seminar at by Friday, Jan. 31, will save $20 on their fees. Brown said net proceeds from the seminar will allow the Gamma Iota Sigma chapter to fund travel scholarships for their student members.
"We send students in our chapter to the Risk and Insurance Management Society's annual conference, or the Gamma Iota Sigma International conference, among other events," Brown said. "The experience and networking those conferences afford them are an important opportunity, as they prepare for their professional lives."
The seminar will run from 9 a.m. to 12 p.m., and the Fed Gallery of the KCAD is located at 17 Pearl Street NW in downtown Grand Rapids.