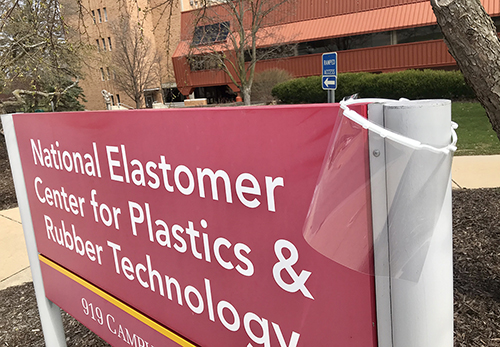 The combination of headbands created on a 3-D printer at Ferris State University's Makerspace, in the National Elastomer Center and overhead transparencies are one example of personal protective equipment that have been distributed by the university's COVID-19 Community Response Team. Nearly 28,000 items have gone out to 45 organizations.
Ferris State University's COVID-19 Community Response Team efforts were recently quantified specific to the diverse array of personal protective equipment items produced since the early days of the global pandemic.
Since April, more than 28,000 pieces of PPE have been produced for distribution. Emily Zoet, the coordinator of Ferris' COVID-19 Community Response Team, shared that data and saluted the active faculty, staff and student work.
"So far, this team has produced and delivered 883 ear protectors, more than 25,000 face shields and 1,380 cloth face masks to 45 different organizations," Zoet said. "When the market could not keep up, this group supplied organizations with crucial personal protective equipment to ensure the health and safety of our communities."
Zoet said that efforts to meet this demand peaked during the spring, as PPE items were acquired with no back stock in the industry to fulfill continuing orders.
"As the market caught up, the urgency started to dwindle," Zoet said. "However, the Community Response Team remains active for now, fulfilling requests as they are presented to us."
The College of Engineering Technology's Laboratory Facilities Coordinator Brian Pacholka noted order prioritization for local governments and agencies. Some recipients include the city of Big Rapids, the District Health Department #10, Project Starburst, Central Michigan Community Mental Health's Big Rapids office, Manna Pantry, Metron of Big Rapids and the Kent County Health Department.
"We have headbands and shields that have gone to New York State, Pennsylvania, Oklahoma, Texas, Ohio and Puerto Rico," Pacholka said. "Two thousand five hundred products have been distributed across the Ferris campus. Through our affiliation with Operation Face Shield, we have also filled international orders from The Bahamas, Nicaragua, Honduras and Haiti."
Pacholka said that the PPE items distributed by the university are at no cost for the recipients.
"There are several staff members on campus who have joined me in the production of these materials," Pacholka said. "We are thankful to the makers of Coca-Cola, who have provided us with 2,000 pounds of shield material. Another key contribution is the ton and a half of ABS material received from Celanese-Ticona Polymers, Incorporated, which we used to make frames. We will go over 30,000 frames produced during the week of Aug. 17."
Those entities in need of PPE can contact Zoet by email.