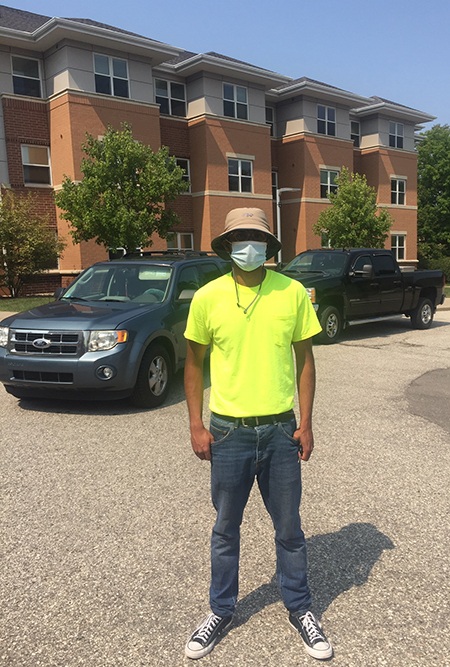 Junior Faeq Hussain, a junior in Construction Management from Detroit, stands outside his East Campus Suites residence after picking up his keys for Ferris State University's 2020-21 academic year. Move-In Days activities began on Wednesday, Aug. 26 and continue through Friday, Aug. 28.
Cloudy conditions greeted the first Ferris State University students arriving with family and supporters at Wink Arena Wednesday, Aug. 26, to participate in Move-In Days activities and prepare for the 2020-21 academic year.

Sydney Stevens, of Detroit, worked Move-In Day the previous fall. The second-year Hospitality Management student was cheerful and optimistic based on the first students and supporters to arrive at the arena to begin the move-in process.

"We are seeing many freshmen come through today," said Stevens, who handed out forms to students moving into campus residential facilities. "We are very happy to see them, and everyone is doing their best to make this a positive experience for these students."
Moving in can prove a long day for many of Ferris' newest Bulldogs.

"Some of the people coming through seem a little sleepy," Stevens said. "They probably had to drive through some rain to get here, today. I do feel like they are coming in, excited about the opportunity to move in."

DebbieLynn Mayo, of Philadelphia, is Ferris' hall director for Henderson, Pickell, Puterbaugh and Ward halls. As a Housing and Residence Life staff veteran, Mayo said the preparations for this year's Move-In Day program were quite involved.

"It was a much more busy process with many challenges to work through," Mayo said. "I am proud of how we have collaborated with other campus departments to make Move-In Day work this year."

An additional element for the students heading to their residence halls or East Campus Suites apartments was completing a COVID-19 PCR (Polymeric Chain Reaction) test to screen them for the virus. Students were strongly encouraged to stay in their campus facilities to the greatest extent possible, due to a 24-to 48-hour period before the expected test results.

A junior in Construction Management, Faeq Hussain, of Detroit, moved into the Oak Building of East Campus Suites.

"There are some signs that one of my roommates may have been here, but I believe I am the first one in," Hussain said. "I am aware of the changes that this year requires of the residents, like wearing masks in common areas of the building and having only two people at any time in an elevator. Last year's check-in was a bit more freeform."

Hussain said there are aspects of the requirements, designed to promote health and safety for all who occupy the campus and impact the greater community, established by the university's Re-entry Committee that will require patience.

"Our inability to take in guests in our suites or other campus buildings will certainly be something to adjust to," Hussain said. "We have plenty of changes and requirements to meet, with the goal of staying safe and healthy by limiting the risks for those in and near the university community."

Move-In Days continue for campus residential facilities through Friday, Aug. 28, with the first day of Fall 2020 semester classes set for Monday, Aug. 31.