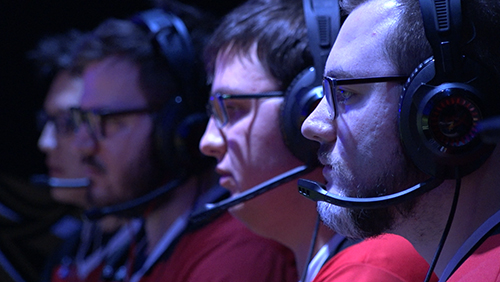 Members of Ferris State University's Esports program will join students from other colleges and universities Saturday, April 18, competing in the second annual Michigan Bandwidth Bowl. 300 to 500 participants will join up in virtual competition in the essential showcase event for Michigan schools with organized gaming programs.
The virtual world serves well for competition once again, as Ferris State University's Esports program will host its second annual Michigan Bandwidth Bowl, a collegiate gaming event, to be held Saturday, April 18.

Esports Coordinator Jonathon Eaton said their inaugural competition saw all the participants joining remotely, which was successful as more than 200 players took part that day.

"The field of competing institutions this year could include as many as 12 schools, presenting 30 teams for the competition, if all interested programs take part," Eaton said. "There are likely to be 300 to 500 students playing 'Rainbow Six Siege,' 'Overwatch,' 'Rocket League' and 'League of 'Legends.' The COVID-19 pandemic has brought about the cancellation of a number of recently scheduled tournaments, so we are glad to be able to host this competition."

Eaton was the founder of Watchpoint Michigan, a consortium of colleges and universities with Esports club teams and programs.

"We have done some outreach with Esports programs who may not have considered the Bowl, or were looking at their competitive seasons being at an end, for any number of reasons," Eaton said. "Watchpoint Michigan supports an Esports community at the high school level and has great hopes for this event."

"We had approximately 1,000 viewers last year. So, with a larger field of competitors and greater awareness of our program, we are hoping to report more than 2,000 viewers of the stream that day," Eaton said. "Ferris has more than 20 competitors in our club who will participate that day in what is the essential showcase and wrap-up competition for Michigan schools, who are involved in Esports."

Anyone interested in viewing the Michigan Bandwidth Bowl can go to Twitch. tv/ferrisEsports to view the competition, where videos of past competitions are also available.