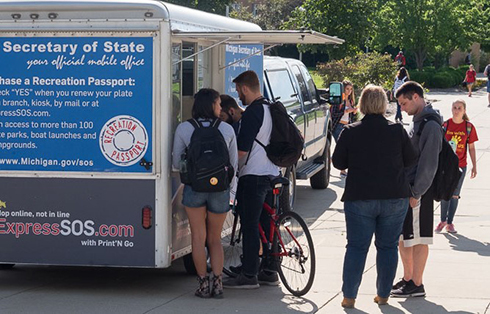 Ferris State University has been recognized by the Washington Monthly, a nonprofit publication based in the nation's capital on their "80 Best Colleges for Student Voting" rankings.
A Washington D.C.-based nonprofit has listed Ferris State University among its 80 Best Colleges for Student Voting, as published in its September-October 2019 edition.
Washington Monthly mentioned Ferris among the 55 state-funded institutions that submitted an action plan to the nonprofit ALL IN Campus Democracy Challenge, in 2016, and made its data from the National Study of Learning, Voting and Engagement publicly available. The report indicated that only 20 percent of U.S. residents aged 18-to-29 years old cast ballots in the 2014 election, but that figure reached an all-time high for a midterm election in 2018, when the figure was nearly 36 percent.
Dean of Student Life Joy Pulsifer said the university is thankful for the acknowledgment that campus-based efforts have helped Ferris to be a top performer in encouraging voter turnout.
"We have worked for many years at inspiring students to connect early on with politics, through initiatives such as the Political Engagement Project and our registered student organizations' sign-up drives," Pulsifer said. "Through these efforts, and others across the Institution, we seek to motivate our students to be active citizens and to build a life-long habit of voting. We know that one of the biggest predictors of whether or not someone will vote in the next election is whether they voted in the previous election. Our students are a powerful political force; their voice matters, and it is great to see in the turnout that they are seizing the opportunity to impact policies and shape the agendas that will directly affect their futures."
Executive Director of Community Engagement Tony Baker said the PEP has changed its model for the academic year ahead, to make it more student-driven.
"The Washington Monthly article makes a telling statement, namely that 'students themselves will do most of the work if given half a chance, even in the face of efforts by some politicians to suppress their votes,'" Baker said. "Political Science Instructor David Takitaki will lead a core group of students to organize a campaign to engage and educate their peers ahead of the 2020 presidential election. We have lofty goals to dramatically increase student participation in that election. In 2008, our PEP data showed over 70 percent student participation. That is our goal in the coming cycle."
The Washington Monthly is celebrating its 50th anniversary as an independent voice for the betterment of the American political process. Some of the supporters of this nonprofit include the Robert Wood Johnson Foundation, the Rockefeller Brothers Fund and The Kresge Foundation.