Ferris State University students gain valuable work experience through internships. Internships also can confirm or redirect career decision-making, provide marketability, develop people skills and enhance classroom learning. Many academic programs require one, but the experience is encouraged regardless to provide students with a better understanding of what will be expected of them in the workplace.
Many students are participating in myriad internships this summer. Meet: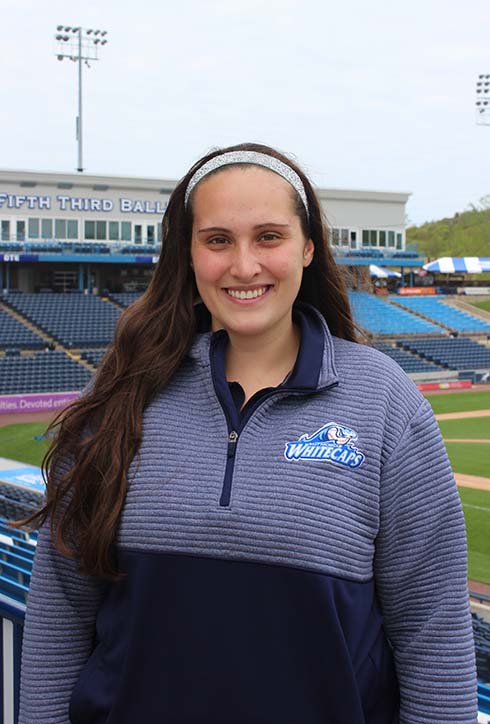 Savannah Christiansen
She is: a senior in Hospitality Management, from Potterville, focused on Food and Beverage, with a minor in Event Management.
Her Internship: Savannah is working with the hospitality staff of the West Michigan Whitecaps at Fifth Third Ballpark in Comstock Park.
What she is Learning: "How to hone my guest service skills, in terms of solving guest problems, making their experience the best, and providing 'wow' moments, in which guests will never forget. I feel like if I can give a guest excellent service or do something special for them that they will never forget, I am making a difference in their day, week, or even in their life. That is exactly why I am in hospitality and this is the perfect internship to do that."
Savannah's Advice to Students Seeking Internships: "Make connections early on in your program to build your network. You will have an easier time finding an internship and knowing which internship is the right fit for you. Also, get involved on campus, especially if you do not have much on your resume. Getting involved in any organizations or projects on campus can help you get experience that employers will look for when they are reviewing you for an internship."
Her Affiliations on Campus: "I have been a member of the Professional Convention Management Association for three years, Hospitality Management Student Association for three years, Colleges Against Cancer for four years, Coalition Against Slavery for three years, in which I coordinated and planned the Inter-professional Conference on Human Trafficking Awareness."
Future Plans: "I plan to move to Chicago or Washington D.C. to be a meeting planner for an association. I hope this internship helps me build the connections I need to get to where I want to be."