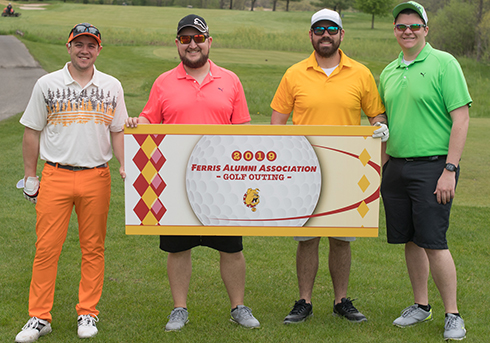 The traditional offerings of Ferris State University's Alumni Association, such as the annual golf outing at Boulder Creek Golf Club in Grand Rapids Township Friday, May 15 will be joined by a "Bulldogs and Brews" tour in 2020.
A mix of time-tested and recently developed events and social opportunities will be available for Ferris State University alumni, as the Alumni Relations office has prepared a 2020 calendar of events for former students and friends to attend and enjoy.
Director of Alumni Relations Brandi Behrenwald said the response from Bulldog Ambassadors, in various states, has prompted their "Bulldogs and Brews Tour." The tour will include in-state gatherings in Grand Rapids, Kalamazoo, Traverse City and Lansing with out-of-state visits to in the Chicago area, Texas, Arizona and other states.
"We had an event at Founders in Grand Rapids in 2019 that was a simple meet and greet for our friends, alumni and supporters," Behrenwald said. "The response was so great that we welcomed suggestions from our ambassadors, who make the arrangements with breweries in their area. In general, a tour stop will run from 6 to 8 p.m., with our guests receiving a Bulldogs and Brews pint glass, and a beverage ticket to fill it as they choose. Some sites will have appetizers, while others will offer restaurant fare. A number of the venues will invite our guests on a brewery tour, and we will have brief updates on alumni programs while the emphasis stays on networking with fellow Bulldogs and having a great time."
Behrenwald added that collaboration with the College of Arts and Sciences and the Office of Extended and International Operations are crucial to their ability to present the tour.
"We are also very thankful for the support offered by the Gentex Corporation, and its willingness to sponsor our Bulldogs and Brews Tour stop in Grand Rapids," she said.
The traditional event schedule will include the Alumni and Friends Luncheons in Sarasota, Florida, on Saturday, Jan. 25, and Tucson, Arizona, on Thursday, Feb. 6. Also scheduled is the 2020 Alumni Golf Outing on Friday, May 15, at Boulder Creek, in Grand Rapids Township. Behrenwald said that positive response for Detroit-area major sporting events prompted their second annual FSU Night with the Detroit Pistons on Saturday, Feb. 8, a Spring Training date with the Detroit Tigers on Saturday, March 7 and a Ferris State Day with the Detroit Tigers on Saturday, July 18.
"The Ferris Night with the Red Wings, on Friday, Nov. 8, was a great opportunity to gather support for our Alumni Association Legacy Endowment," Behrenwald said. "We were able to raise $3,370 for our scholarship program that night. Our alumni can also expect that when Ferris teams are in conference, association or NCAA playoff pursuits, we will be there to gather and celebrate their success."
The Alumni Association board was intentional about looking into atypical events and gathering opportunities. Luke Edington, a 2014 Plastics and Rubber Engineering Technology graduate from Wyoming, said they are pleased to have 30 ambassadors supporting their mission across the country.
"We have a real emphasis on new approaches to engage and entertain our alumni, especially graduates who may have left campus in the last several years, along with our more veteran participants," Edington said. "We want to offer those activities that an alumnus with a young family might consider and enjoy. With digital outreach, we hope to keep all our Bulldogs informed on when we have events and programs in their area so that they can network and celebrate our mutual success and experiences."
Click here for more information on the 2020 event schedule from the Alumni Association homepage.