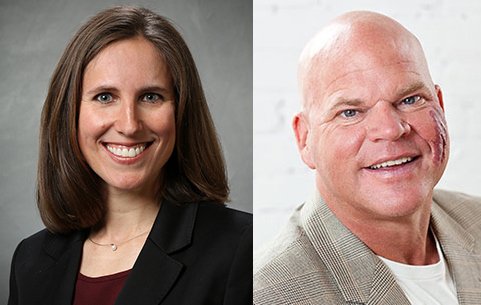 LANSING, Mich. – Ferris State University alumni Kurt Hofman, of Grand Rapids, and Kari Sederburg, of East Lansing, have been appointed to the university's Board of Trustees. The appointments were announced by Gov. Rick Snyder on Wednesday, Oct. 17.
Hofman, the executive vice president at RoMan Manufacturing, Inc., has been tabbed to replace Gary Granger, the immediate past chair of the board, while Sederburg, a senior program officer with the Michigan Health Endowment Fund in Lansing, will replace Paul Boyer, the board's current chair. Hofman and Sederburg, whose terms begin Jan. 1, 2019, will serve eight-year terms that expire Dec. 31, 2026.
Ferris President David Eisler stands ready to work with the board's new trustees. He further expressed gratitude to the board's outgoing members for their service to the state of Michigan and Ferris.
"We are so pleased to welcome Ms. Sederburg and Mr. Hofman to the Ferris State University Board of Trustees," Eisler said. "Both bring a broad range of experiences to our Board and as alumni understand firsthand the difference Ferris can make for students and their futures. I very much look forward to working with them to continue the advancement of our university and the education we provide. It has been a privilege to work with trustees Gary Granger and Paul Boyer. Both have served as chairs of our Board and their leadership has strengthened Ferris in so many ways. I have learned much from them and our university is a better place because of their service and commitment."
In addition to his current position, as executive vice president at RoMan Manufacturing, Inc., Hofman serves on the advisory board for Ferris' Welding Engineering Technology program and is chair-elect for The Ferris Foundation Board of Directors. Hofman earned an associate degree in Welding Engineering Technology from Ferris' College of Engineering Technology, in 1983, and a bachelor's degree in welding engineering from Arizona State University.
Prior to her current position, as senior program officer with the Michigan Health Endowment Fund in Lansing, Sederburg served as the executive director of the Michigan Aging and Adult Services Agency. She earned her bachelor's degree in Public Relations from Ferris' College of Business, in 2002, and later her master's degree in public administration from Ohio University.
"I thank these highly qualified individuals for serving the state of Michigan," Snyder said in a press release highlighting a series of appointments. "I am confident the work they do on these boards and commissions will positively impact the state for years to come."
The Hofman and Sederburg appointments are subject to the advice and consent of the Michigan Senate.
Ferris' current trustees are chair Paul E. Boyer, of Ada; vice chair Lori A. Gwizdala, of Bay City; secretary Ana L. Ramirez-Saenz, of Caledonia; immediate past chair Gary L. Granger, of Byron Center; Robert J. Hegbloom, of Clarkston; Amna P. Seibold, of East Grand Rapids; Rupesh K. Srivastava, of Wixom; and LaShanda R. Thomas, of Grosse Pointe.

PHOTO CAPTION: Pictured (left to right) are the newest Ferris State University Board of Trustees members, as appointed by Gov. Rick Snyder: Kari Sederburg and Kurt Hofman.