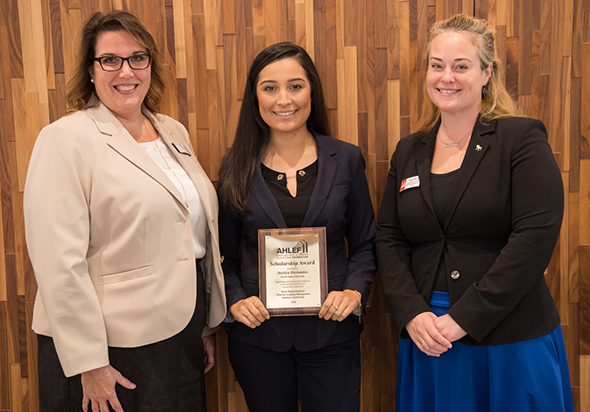 A momentary break from an extremely active schedule provided Ferris State University's Hospitality Management Advisory Board the opportunity to honor Byron Center senior Jocelyn Hernandez, on Friday, Oct. 12 in Big Rapids.
Hernandez, a native of Byron Center, received a scholarship from the Hyatt Hotels Fund for Minority Lodging Management Students, which was given by the American Hotel and Lodging Educational Foundation. She is currently working at a restaurant in the Midtown area of Detroit while taking online Hospitality Management classes as part of a "3+1" curriculum arrangement with Grand Rapids Community College.
"I have been continuing my program online since the start of the 2018 spring semester while I gain experience in the industry, living in Detroit," Hernandez said. "Kymberli Flanagan, with the Extended and International Operations-Grand Rapids office, has immensely helpful in directing my path through the degree curriculum."
Hospitality Management Advisory Board members lauded Hernandez for exemplifying the opportunities in educational partnership, as she advanced from Kent Career-Technical Center studies while in high school to the GRCC program, and onto Ferris' highly regarded Hospitality Management studies. Ferris offers training multiple AHLEI certificate programs as part of the required courses in various HM degree paths.
"I hope to be done with my studies in the spring and build on my experiences of hosting events and catering," Hernandez said. "That includes recently taking a leadership role in an event my employer provided to the Ilitch family. I am considering opportunities in the lodging industry and see Detroit as a revitalized area. With my foot in the door here, I hope to find a situation to advance those pursuits."
Hernandez also was acknowledged for her academic excellence while managing career pursuits as she holds a 3.77 grade point average. The AHLEF's Hyatt Scholarship provided Hernandez $3,000 toward her education. The foundation indicated Jocelyn was among 24 recipients, selected from more than 180 nominations, to receive the scholarship.
"I am directing this award to my expenses from GRCC while I focus student loan resources toward completing my Bachelor of Science degree," Hernandez said. "I am very thankful that my financial situation has been simplified thanks to the support from the AHLEF. This is an honor and a real benefit to me."
The AHLEF is the philanthropic arm of the American Hotel and Lodging Association, and a record-breaking $1.3 million was awarded in 420 scholarships this year, the highest amount ever provided to students pursuing careers in the hospitality industry.


PHOTO CAPTION: Jocelyn Hernandez, (center) a senior in Ferris State University's Hospitality Management program, received a plaque, along with a scholarship from the Hyatt Hotels Fund for Minority Lodging Management Students on Friday, Oct. 12. Extended and International Operations advisor Kymberli Flanagan (left) and Hospitality Management instructor Karyn Kiio are pictured with Hernandez.