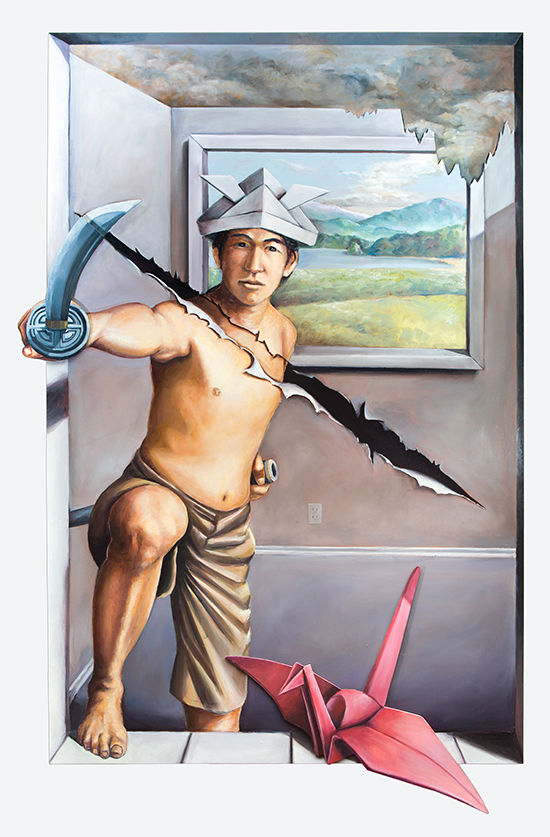 Ferris State University's Fine Art Gallery has welcomed the works of Kendall College of Art and Design adjunct instructor Tatsuki Hakoyama to the University Center. The exhibit debuted on Tuesday, Oct. 23 and will remain on display through Friday, Dec. 15.
More than a dozen Tatsuki Hakoyama-created oil paintings comprise "The Space Between," with Hakoyama set to visit the gallery on Thursday, Oct. 25 during a reception from 5 to 7 p.m.
"I combined two different bodies of work to develop this exhibition, as I use cultural pieces to present my message on personal identity and cultural values," Hakoyama said. "Much of my work elicits personal values dealing with perceptions of the cultures here in the United States and through generational groups. The symbols address larger traditional concepts as I intend to exhibit the greater struggle for identity within a world of homogenization."
The Fine Art Gallery is located in University Center, Room 205, with "The Space Between" available for viewing Monday through Friday from 11 a.m. to 6 p.m., and Saturdays from 11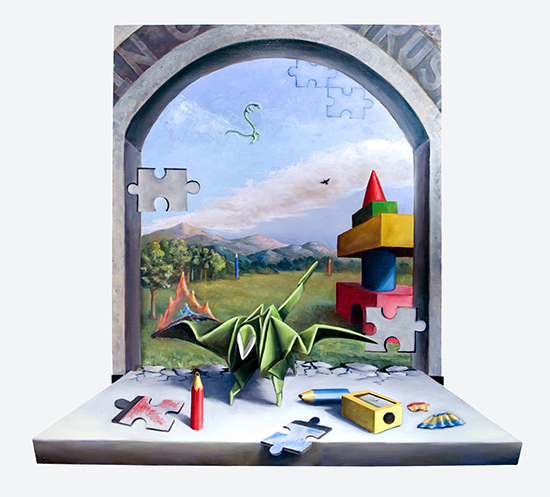 a.m. to 3 p.m.
"Those who come to see the exhibit will bring their own perspectives on culture and globalization," Hakoyama said. "It is my hope that the works will help them to examine what I call our 'hybrid identity' that is present in today's society."
Hakoyama has participated in ArtPrize for four years. His 2018 entry, "Mirror Mirror on the Wall, Does Place of Birth Decide it All?" was presented at Fountain Street Church. His other group exhibition participation during the year included "Focus on Faculty-Influence," at Kendall's The Fed Galleries; "Crossing Perspective," at Black Box Gallery, in Dearborn; and "Investigating Identity," at Concordia University's Kreft Art Gallery, in Ann Arbor. His solo exhibition, "Searching for the Middle Path," has been offered at the Art Department Gallery, at Saginaw Valley State University; the Lansing Art Gallery and Central Michigan University's Baber Room Gallery.


IMAGE CAPTIONS: Pictured are works of art from Kendall College of Art and Design adjunct instructor Tatsuki Hakoyama.