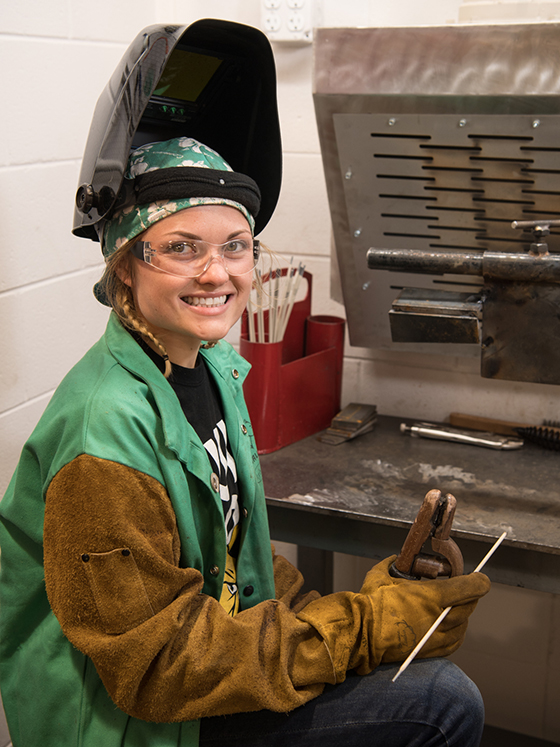 Ashlyn Childs, a second-year student in Ferris State University's Welding Engineering Technology program, believes the opportunities she has enjoyed will also benefit other women, and nontraditional students who take up career paths in technology and skilled trade fields.
The Adrian native said she has continued to expand on the learning she accomplished as a Lenawee ISD Vocational Tech Center student, which provided her leads on summer jobs with Adrian Steel each of the last two years.
"My former instructor, Justin Schmidt, arranged for gas metal arc welding and gas tungsten arc welding positions, respectively," Childs said. "I also came to Ferris with 18 college credits thanks to my Welding Technology teachers at the LISD. I chose to continue my learning at Ferris, because of the depth of education related to the business and engineering aspects of Welding that they offer."
Childs said she intends to minor in Business, as she pursues her Bachelor of Science in Ferris' Welding Engineering Technology program.
"Many other schools focus their instruction on the production side of welding," Childs said. "I am only breaking the surface of all the opportunities welding offers, and it continues to amaze me. I want to take what I will learn at Ferris and show both traditional and nontraditional students what they can achieve by simply giving this field or other trade programs a chance."
Childs hopes to broaden her experience by finding an internship outside the United States in Summer 2019.
"I hope to be a student advocate to show non-traditional/traditional individuals that it is possible to achieve more than they had ever anticipated by going out of their comfort zone," Childs said. "That will include convincing young women to stand up for themselves and show that their abilities extend a great deal beyond what our society generally offers them. I believe entering this field gave me an opportunity to stand apart from others and I intend to use what I have learned to the best of my ability. I know helping others grow and achieve is what I was meant to do."
Michigan's wide range of professional trade positions will present more than 800,000 new and existing job opportunities, as baby boomers end their careers and anticipated market expansion develops, according to the Michigan Bureau of Labor Market Information and Strategic Initiatives. Welding Engineering Technology Associate Professor and Program Coordinator Jeffrey Carney said females make up around 10 percent of the student body in Ferris' associate and bachelor's programs.
"Their numbers are growing," Carney said. "Opportunities for women in the manufacturing field, including Welding Technology and Welding Engineering Technology, are very good today, and that is expected to continue in the future."
Childs and other WET students are receiving laboratory instruction in expanded facilities at the Swan Technical Arts Building Annex. The $30 million expansion and renovation project was supported by a $22.5 million appropriation from the state of Michigan and $7.5 million in donations and in-kind contributions from corporations, foundations, alumni and university friends.


PHOTO CAPTION: Ashlyn Childs, a second-year student in Ferris State University's Welding Engineering Technology program from Adrian, participates in a laboratory exercise at the Swan Technical Arts Building Annex.