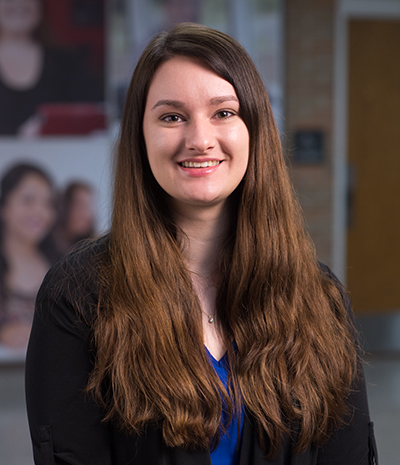 Jennifer Corrie, a May 2018 Ferris State University graduate with a Bachelor of Science in Journalism and Technical Communications, was awarded the Richard and Donna Milliman Community Scholarship by the Michigan Press Association Foundation.
Corrie worked at Ferris' student newspaper, The Torch, her entire collegiate career. The College of Arts and Sciences graduate started her student journalism career as a reporter and worked her way up to managing copy editor.
It is rare for a student to join the Torch within days of arriving on campus, according to Torch faculty adviser Steven Fox.
"Jennifer knew she wanted to be involved with the Torch from before she ever arrived on campus," Fox said. "Her commitment to the student newspaper never wavered, from reporting to writing columns and serving multiple roles as a copy editor. She was determined to help make the Torch the best it could be during her years on campus."
According to Fox, a large component of the MPA Foundation scholarship is a focus on community journalism. Corrie is a Big Rapids, Michigan native who grew up reading the local Pioneer newspaper.
Corrie is grateful for the scholarship to assist with academic expenses, and appreciates the validation that all her hard work and long hours are being noticed.
"It is an honor for Ferris to be included in the prestigious scholarship. The Michigan Press Association and its Foundation remains the preeminent organization for community journalism in the state. The Torch serves its community of readers in much the same way newspapers throughout the state serve their readers," Fox said.
This is the eighth consecutive year a Torch staff member has received this scholarship from the MPA Foundation.
The Torch is a student-run newspaper that publishes a print edition weekly and is available online. The Torch has been around since 1931. The student-run newspaper has won back-to-back Newspaper of the Year awards from the annual MPA College Newspaper Contest.


PHOTO CAPTION: Big Rapids native Jennifer Corrie, a May 2018 graduate of Ferris State University's College of Arts and Sciences with a Bachelor of Science in Journalism and Technical Communication, has received a scholarship from the Michigan Press Association Foundation.