Ferris State University students gain valuable work experience through internships. Internships also can confirm or redirect career decision-making, provide marketability, develop people skills and enhance classroom learning. Many academic programs require one, but the experience is encouraged regardless to provide students with a better understanding of what will be expected of them in the workplace.
Many students are participating in myriad internships this summer. Meet: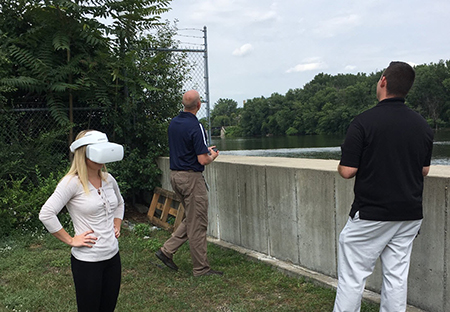 Sara Williams
She is: a senior from Grand Rapids, studying Information Security and Intelligence. Sara served as the first Ferris intern at the Michigan State Police's Computer Crimes Unit, based in Grand Rapids.
How She Got The Internship: "Assistant Professor Jason Otting helped me get in contact with the right people, without him I wouldn't be where I am today. I am grateful that I am getting so close to my dream job. Also, other professors have emailed me regarding certain jobs, which is a huge help as well."
What She was Learning: "We took up cell phone extractions, imaging hard drives, forensic software programs, search warrants, police reports, drone technologies, social media investigations and how important it is to work as a team. The detectives I worked with are so humble, they deserve the utmost respect."
Advice to Students Seeking Internships: "Don't be afraid to put yourself out there. Getting out of my comfort zone was the best thing I could have done. Also, don't just settle with an internship that you not thrilled about. This is your chance to get real-world experience, so I suggest that you go after what you want."
Other Activities: "I am a member of the Women in Cyber Security club. Though I am an off-campus student, I am still able to sit in on meetings online. It works out great for my busy schedule."
Future Plans: ;"I hope I proved myself to the Michigan State Police- Computer Crimes Unit to hopefully land a job soon. I will be applying this fall, and that can't come soon enough. It would be my dream job, and I was very sad to leave, once my internship was done. Everyone I worked with made it the best experience possible, and I am so grateful for that."
PHOTO CAPTION: Sara Williams, of Grand Rapids, was the first Ferris State University Information and Security Intelligence student to serve an internship with the Michigan State Police's Computer Crimes Unit, which is based in Grand Rapids.