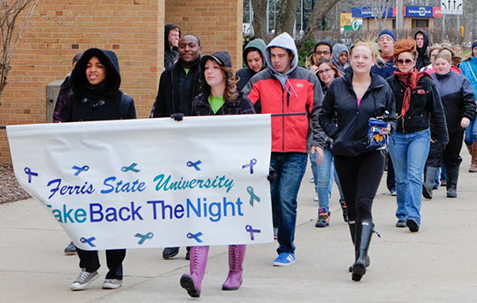 The Ferris State University and Big Rapids communities are coming together as the Social Work Association welcomes Theater Delta to campus on Monday, Sept. 18 to present a performance hosted on sexual assault awareness. The SWA, in collaboration with several campus and local organizations, is hosting Theater Delta as it presents "How 'Bout This Party?" at 7 p.m. in the University Center Ballroom.
Charlotte Halm, a senior in Social Work and president of the SWA student organization campus chapter, noted the group has further planned a "Take Back the Night" awareness march, prior to the Theater Delta performance, which will depart from the North Campus Quad, at 6 p.m.
"We will be traveling through the east side of the campus, but our march will take us through that entire area, with a chance for the public to see us as we travel south, along State Street," Halm said. "We very much hope that those who join us for the march will have made their own sign to carry, during the march, to address the dangers of campus sexual assault."
Halm said the National Sexual Violence Resource Center reports 90 percent of sexual assault incidents on college campuses go unreported, and one in five women are assaulted during their lifetime. The center said one in 16 men are assaulted, based on its research.
"We planned our march and the Theater Delta performance for the start of the academic year to raise awareness of campus sexual assault incidents," Halm said. "Theater Delta had their last performance, on behalf of the SWA chapter, two years ago, as they present on a variety of social justice issues.
"How 'Bout This Party?" will touch on topics such as consent, the role of alcohol in sexual assault, bystander intervention, supporting survivors and responding to victim blaming.
"We are pleased to have the support of the Student Activity Fund and the university's Title IX Office, along with WISE, the Phi Alpha Social Work honor society, the Active Minds nonprofit and Ferris Student Government to sponsor our march and event," Halm said.

PHOTO CAPTION: A "Take Back the Night" awareness march will step off from the North Quad of Ferris State University's campus on Monday, Sept. 18 at 6 p.m. A Theater Delta presentation on themes of campus sexual assault and alcohol use will follow at 7 p.m., in the University Center ballroom.