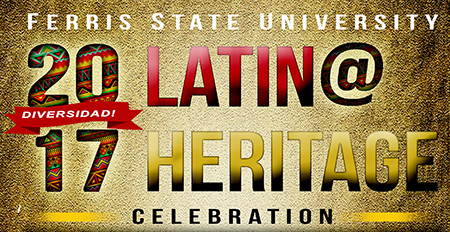 A variety of events exploring [email protected] music, culture and cuisine are planned over a four-week period, during Ferris State University's fall semester, as the Office of Multicultural Student Services and the Center for [email protected] Studies collaborate with student and campus groups in a [email protected] Heritage Celebration.
Center for [email protected] Studies Executive Director Kaylee Moreno is excited about this year's events that are part of this collaborative celebration.
"We seek to celebrate the diversity within the [email protected] community," Moreno said. "Various events will highlight the identity and culture, which will create spaces for students to connect to their own culture, and others, to learn about [email protected] identities."
The celebration's first event, Kickoff Cultura [email protected], welcomes Comparsa Sur, a musical group with members from Venezuela, Argentina, Chile and France, who will perform beginning at 4 p.m. Thursday, Sept. 14 in Room 202 C of the University Center.
Jessica Ledesma, a program coordinator with the CLS, is credited with organizing the Thursday, Sept. 21 event. Moreno said students and supporters will travel to Grand Rapids for the Celebración Del Arte Latinx. The presenters represent a diverse group, offering unpublished stories to redefine virtues of Latinx identity, passion, purpose, interconnectedness, respect and legacy.
"This event will weave together those thoughts with a leading ArtPrize venue as the backdrop," Moreno said. "(The location) 333 Rumsey Street SW was the display site for a mural that won two awards, in last year's ArtPrize competition."
Educational events on the schedule include Historia E Identidad [email protected], where a panel of Ferris faculty and guests will consider [email protected] history, cultural identity and current issues. This presentation takes place Tuesday, Oct. 3 at 5 p.m. in Room 120 of the Interdisciplinary Resource Center. On Monday, Oct. 9, at 5:30 p.m., IRC 120 will be the site for Strategy of La Comunidad, a presentation on community organizing, with hopes of beginning a social movement as part of the U.S.-El Salvador Sister Cities 2017 Midwest Speaking Tour. That concept is furthered on Wednesday, Oct. 11, at 10 a.m. in Room 210 of the Michigan College of Optometry, with Nueva Dimension, a workshop on cross-border solidarity, as the Midwest Speaking Tour seeks to confront injustices in these communities.
Michael Wade, assistant director of Ferris' Office of Multicultural Student Services, said the celebration concludes Friday, Oct. 13, with Convivio, an event focused on Latin American culture, performing arts and cuisine. It will be hosted in the IRC Connector from 5 to 7 p.m.
"Our office's goal, with the annual [email protected] celebration, is to highlight the contributions made to our society and to showcase the diversity within the [email protected] culture," Wade said. "We hope the campus community finds the celebration to be a series of enjoyable events, and an opportunity learn more about this rich culture."
The [email protected] Heritage Celebration is co-sponsored by the Hispanic Student Organization, Ferris' Diversity and Inclusion Office, the Phi Alpha honor society for Social Work students, the university's Office of International Education and the Spanish Club, along with the CLS and OMSS.
Anyone needing with a disability needing assistance to attend an event is asked to contact the OMSS office at least 72 hours prior to the event.


PHOTO CAPTION: The Office of Multicultural Student Services, and Ferris State Universities have collaborated on the organization of a [email protected] Heritage Celebration, which begins Thursday, Sept. 14 and continues through Friday, Oct. 13.