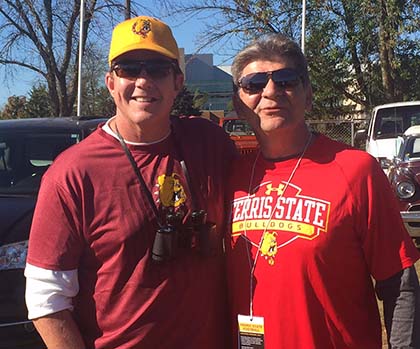 A sun-drenched sky and pleasant temperatures greeted hundreds of Ferris State University alumni and thousands of Bulldog supporters as Homecoming Week concluded with a variety of activities on Saturday, Sept. 30.
Class of 1976 College of Business graduate Stephen Krispinsky, executive director of the Master of Business Administration program at Ashland University, in Ashland, Ohio, said he arrived on Friday, Sept. 29 for the Fall Reunion. The four-year letter winner was on hand at the University Center gathering to support a football teammate.
"Billy Hawkins, a 2017 Distinguished Alumni recipient, invited me to sit at his table, and I was most glad to be part of his celebration," Krispinsky said. "It's a great feeling to see former teammates and classmates, and to get back on campus."
Class of 2013 alumni Katelyn Crain and Kevin Casey, of Grand Rapids, determined early Saturday afternoon that they could best enjoy the pleasant weather by heading to Ferris for the Homecoming tailgate and football game.
"It was a spontaneous decision for us, but it is always good to come back to our alma mater," Crain said. "We ran into a former resident of McNerney Hall, who was there during my time as a resident assistant. Finding him was a real surprise."
Crain earned a Bachelor of Science degree in Communications, and is currently pursuing her Master of Business Administration, intending to complete that Ferris degree in December 2018.
"I ran into a workplace colleague, who also has a contract engineering position with a firm along the Lake Michigan shore," Casey said. "We had never discussed that we both were graduates of the Plastics Engineering Technology program."
Alumni Relations Coordinator Kevin Bunce served as project manager for the Alumni Association tent, which welcomed more than 500 registered guests on Homecoming Saturday.
"The weather certainly helped to bring us a good crowd," Bunce said. "Thanks to our sponsors, Monster Beverages, Liberty Mutual Insurance and the Michigan State University Federal Credit Union, we were able to greet and entertain hundreds of former Bulldogs, in what was a banner year for our Homecoming tailgate, and celebration. We are so pleased by the collaboration from across our campus."
Director of Alumni Relations Brandi Behrenwald said their records indicate that alumni came in from a dozen states to participate in Homecoming activities.
"Nearly all of the university's colleges gave a maximum effort to reach out and welcome alumni, and other friends of the university, which was a big reason we had such a successful event," Behrenwald said. "Corporate involvement allowed us to offer engaging activities, like the mechanical bulldog in our Alumni Tent, the 'Puppy Chow Competition' sponsored by the College of Arts, Sciences and Education, and the simulation activity offered by the College of Education and Human Services, to name a few."
Corey Nichols, the senior resident advisor in Ferris' new North Hall, was selected in student voting to be honored as 2017 Homecoming Royalty, which was announced during a halftime ceremony. The native of Holly, Mich. is pursuing bachelor's degrees in Architecture and Sustainability, along with Architecture and Facility Management. Nichols said the good wishes that began following the announcement have continued into the early days of October.
"It's kind of like how your phone blows up on your birthday, and it's still happening," Nichols said. "I left following the game, with my family, to have dinner in town. There were people there greeting me, because they knew I had won. I am feeling a lot of love from the community, and it is certainly one of the top experiences of my life so far."
Homecoming 2018 activities at Ferris will be held in the last week of September, with the university's 92nd Homecoming game to be played on Saturday, Sept. 29.
PHOTO CAPTION (TOP): Stephen Krispinsky, a 1976 College of Business graduate from Ashland, Ohio enjoys the Ferris State University Homecoming football game with Jack Roberts, a member of The Ferris Foundation Board of Directors.
PHOTO CAPTION (BOTTOM): Kevin Casey and Katelyn Crain of Grand Rapids, 2013 Graduates of the College of Engineering Technology and the College of Arts, Sciences and Education, respectively, take in the Ferris State University Homecoming tailgate and football game on Saturday, Sept. 29.