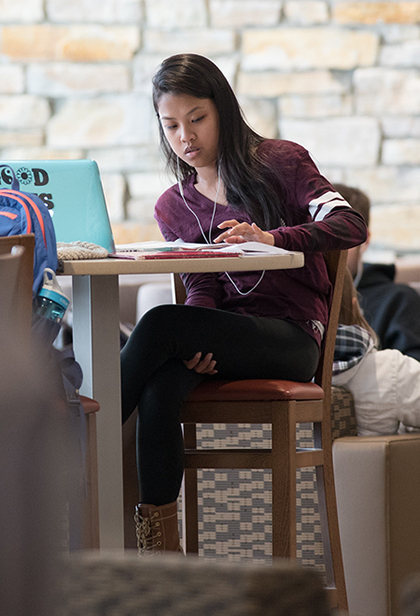 Ferris State University began its 2017-18 academic year with a total enrollment of 13,798 students across all campuses – including 9,868 on main campus, in Big Rapids.
New and returning students were welcomed to campus with the annual Bulldog Beginnings activities to kick off the new semester. This fall's total student population represents a small decline of 389 students from the 14,187 enrolled at the start of the 2016-17 academic year. Main-campus enrollment was down slightly, by 148 students, however the number of main-campus freshmen increased by 1.4 percent.
"We're excited to begin another fall semester, at Ferris State University, with an enthusiastic and motivated student population," said Jeanine Ward-Roof, vice president for Student Affairs "We have closely monitored statewide and national college and university enrollment trends in an ongoing effort to maintain a consistent and high-achieving student population. Our efforts are guided in the face of national trends related to enrollment. While this fall's enrollment numbers show a slight decline, we are excited about the new academic year, and we will continue our recruiting efforts to bring dedicated students to campus."
Ward-Roof further saluted the work of the university's Admissions team for its efforts to recruit the freshman class starting at Ferris this year. She noted the buzz, on campus, for many students who are living in the new freshman-focused North Hall on-campus residential facility. North Hall construction was completed, in August 2017, and residents began moving in the week prior to the Aug. 28 start of fall classes. This fall's welcome-back activities including an expanded Bulldog Beginnings schedule for students to balance activities inside and outside the classroom.
Included in this fall's enrollment numbers are: First-to second-year retention, for full-time bachelor's degree students, stands at 79 percent, a 4-percent increase. Enrollment further showed gains in the number of Hispanic students, up by 42; students of two or more races, up 37; African American students, up 20; and Asian students, increased by 14. The mean ACT composite score is slightly up, for first time in any college students, to 22.26, to start Fall 2017.
Ferris' Spring 2017 enrollment was 13,471 students, across all campuses, with 9,485 enrolled on main campus.


Ferris State University Enrollment Glance (Fall 2017)
Enrollment (total): 13,798
Main campus enrollment: 9,868
Mean ACT Composite (FTIAC): 22.26
Online: 1,005
Transfer: 1,594

PHOTO CAPTION: Pictured is a campus scene from Ferris State University. Classes, for the Fall 2017 semester, began on Aug. 28. The University has released its Fall 2017 enrollment numbers.