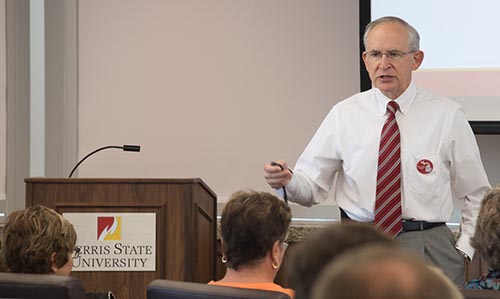 Thursday, Aug. 31 saw a day-long celebration take place on the Ferris State University campus, in Big Rapids, to recognize and honor the university's founder, Woodbridge N. Ferris, and his wife, Helen Gillespie Ferris.
Their great-great-granddaughters Tammy Smith and Julie Ferris, of St. Louis, Missouri, were in attendance as President David Eisler made his annual remarks in the University Center, to open the 11th Founders' Day schedule of events. Eisler said it is important to remember the heritage and values of the founding couple, as Ferris is the only public university in Michigan to be named for its founder.
"We can look at a picture of Mr. Ferris and his wife, in 1888, and consider the risks they took, how they embodied a pioneer spirit in what they brought to Big Rapids," Eisler said. "Their mission was to provide the opportunity of education, and to make the world a better place. The university's current mission charges us to develop responsible citizens, and to promote lifelong learning. That last point is so important in today's world, where the impact of technology is changing the educational process so quickly."
Eisler highlighted critical success factors that the university is carefully observing, and his hopes to create greater benefits for students in the long term.
"I am eternally grateful for the efforts of many staff members, who made connections with students, in an attempt to positively impact our change in enrollment," Eisler said. "Our retention of students who are returning for their second year in pursuit of a degree was at 75 percent in 2016. Our goal for this year is 78 percent, with hopes to see that indicator improve to 80 percent."
Eisler said the university is continuing efforts to constrain costs for students, and he reflected on the academic and athletic successes that are found on campus.
"There were 3,800 degrees conferred, in 2015, and that number grew to 4,196 last year," Eisler said. "That is amazing growth, and really it is what it's all about, helping students to graduate from college."
The president also addressed areas of concern, brought on by changes in Michigan's population, and the resulting decline in numbers of high school graduates, statewide.
"The number of credit hours taken annually is down 8.5 percent, according to figures from 2009 to 2017," Eisler said. "We have seen a 16-percent decline in that category on our regional campuses. The state's K-12 population decline impacts our community college partners, and much of public education."
Final considerations in Eisler's address dealt with administrative expectations, including plans to enter into development of a strategic plan, which would guide university operations from 2019 through 2024.
"It will be important to promote Ferris' areas of distinction, which include class sizes, our classes are taught by professors, not graduate assistants, and our specialty schools, like the College of Pharmacy, and the Michigan College of Optometry," Eisler said. "The implementation of a Center for Academic Literacies will offer at-risk students help, before they reach a crisis point in their classwork."
President Eisler closed his address by offering a note of optimism for the coming academic year, and the future of the university.
"There are new facilities for living and learning, and plans for a Student Recreation Center renovation, to provide improvements suggested by our students," Eisler said. "We are a part of something greater than ourselves."


PHOTO CAPTION: Ferris State University President David Eisler made remarks to begin the eleventh observance of Founders' Day, Thursday, Aug. 31, in the University Center.