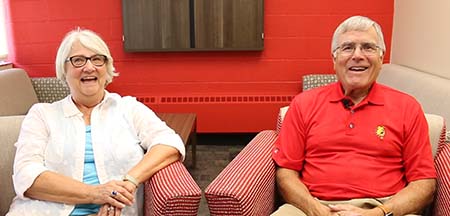 Check the video interview featuring the 2017 Homecoming Grand Marshals.
A 1967 graduate of Ferris State University's College Pharmacy program, R. Thomas Cook, of Fife Lake, will be joined by his wife, Janice, to serve as grand marshals for the 2017 Homecoming festivities.
"Since I was contacted, and asked to serve as grand marshal, it has been good to think back on my studies and service to the university," Cook said. "It is quite an honor, to have the chance to do this."
Cook is currently a member of the College of Pharmacy's alumni board, and served two terms as a member of the Ferris' Board of Trustees. Cook said he was proud of that involvement, which presented more than a decade as an officer on the board, including nearly four years as board chair.
"I was chairman of the university's board when we went through the presidential search, which brought us David Eisler," Cook said. "I also oversaw the board's assistance in making the leadership transition between William Sederburg and President Eisler."
Cook will also be among those recognized as Golden Eagles at the Alumni Association's Fall Reunion on Friday, Sept. 29 in the University Center Ballroom.
"Our group is excited to be honored. I understand that more than 50 will be on hand for the event," Cook said. "I am looking forward to seeing people who went through the Pharmacy program, when I did, many of whom I have not seen in decades. We have also assembled a pretty good group, more than 20 people, for the Pharmacy alumni brunch on Saturday morning."
Cook was honored as a Distinguished Alumni, in 1994, and received the Clark A. Andreson Award from the College of Pharmacy. He was also a member of the Phi Delta Chi pharmacy fraternity.
"Janice and I expect that we will be having a great deal of fun at Homecoming, this weekend," Cook said. "It will be the first time I have ridden along the parade route though I have walked down Michigan Avenue several times, along with the University's Pride Committee. We are looking forward to all that the celebrations should bring."
PHOTO CAPTION: Former Ferris State University Board of Trustees Chair R. Thomas Cook (right) of Fife Lake, a 1967 graduate of the College of Pharmacy, will be joined by his wife Janice (left) in service as Grand Marshals for the 2017 Homecoming festivities.