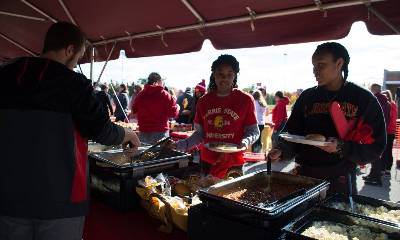 Students who reside in Ferris State University apartments, suites and residence halls are encouraged to take part in the fourth annual Resident Appreciation Day, which will be from 12 p.m. to 1 p.m. Saturday, Oct. 28, with the Ferris-Northwood football game as its backdrop.
Bryan Marquardt, the university's director of Housing and Residence Life said this is their chance to show gratitude to those commuters, and other students who have a meal plan with the Dining Services program.
"This is our one big thank you event of the year, and a great chance for our office and the staff of Dining Services to collaborate with Bulldog Athletics," Marquardt said. "We are glad that students choose to live and dine on campus, and we will make sure they know that they are an important part of the campus community."
Marquardt said they have averaged between 500 and 700 participants since Resident Appreciation Day celebrations began, and with more than 3,000 students eligible to participate, they hope to welcome a large audience that day.
"Students can swipe their ID cards at the gate, and those who qualify can head to the Bulldog Tent, along the northwest corner of the stadium," Marquardt said. "The first 500 participants will receive a long-sleeve t-shirt specially designed for Resident Appreciation Day. We will be offering a walking taco bar, which should be an easy meal to manage at a tailgate."
Marquardt said he appreciates the support of Ferris State University Catering in presenting this event.
"There will be a variety of organizations supporting Resident Appreciation Day," Marquardt said. "Volunteers from the Housing and Residence Life, and Dining Services staff are taking part, along with Senior Resident Advisors, and other RA's. I will also help students check in, and get involved, along with Kara Kosloski, in Auxiliary Enterprises Marketing. We will do our best to make it an enjoyable day."