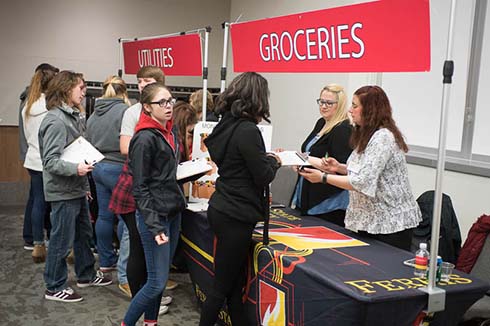 The Office of Scholarships and Financial Aid at Ferris State University understands their student clients will have more bills to pay, once their time on campus is complete, and those men and women begin their careers.
On Wednesday, Oct. 11, "Get Real," an interactive game developed by Financial Aid Outreach Coordinator and Advisor Melanie Mulder, will be available to Ferris students from 10 a.m. to 12:15 p.m., as part of an outreach exercise. Mulder said she got the idea for Get Real by attending a National Association of Financial Aid Administrators conference, which was held in Chicago several years ago.
"The Indiana Women's Education Foundation had created a program that they called 'Reality Store,'" Mulder said. "I heard a 12-year old girl from an inner-city school in that area speak about her experience, as it taught her a significant lesson about personal finance. When the conference was held in Grand Rapids a few years later, I volunteered to help with a Reality Store presentation, and decided it was something that Ferris students should experience. I based Get Real on the Reality Store concepts."
Those students who pre-registered for this presentation of Get Real, and then complete the interactive game will be placed in a drawing for one of three $500 scholarships, which will be held on Friday, Oct. 20. (Note: pre-registration has closed for the Oct. 11 event) Mulder said she incorporates real-time information, such as real estate listings from the West Michigan area, and car and truck prices for 2017 models.
"I believe that when students have accurate information on what will shape their future financial decisions, including our university's average student loan debt, those facts should help them come to wise decisions while they are in school, and after they graduate," Mulder said. "Our first Get Real exercise was offered in the 2014 Spring semester, and we present it twice a year on our campus. The majority of our students tell us after the event that they were struck by the expenses that are involved in raising children, and the variety of financial decisions that are ahead for them. We have taken this program to the Kent Intermediate School District, and will welcome 260 Mecosta-Osceola ISD Career Center students during our event."
Mulder wished to thank those organizations that are collaborating in the Get Real presentation, including Patterson's Flowers, Rue 21, Meijer, Lake and Lodge Realty, Huntington Bank, Animal Rescue Coalition-PetSavers and The Early Learning Center.
PHOTO CAPTION: Get Real, an interactive personal finance exploration game developed by Ferris State University's Office of Scholarships and Financial Aid will be available to students on Wednesday, Oct. 11. The presentation will take place from 9 a.m. to 2 p.m. in Room 202 of the University Center.