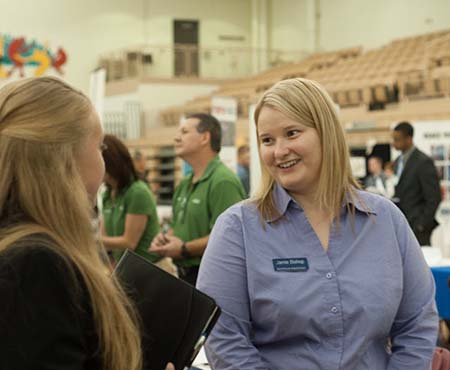 A number of new employers have joined more than 250 providers and organizations taking part in Ferris State University's Fall 2017 Career and Internship Fair. The event will be held on Thursday, Oct. 12, from 10 a.m. to 3 p.m., encompassing both the Wink Arena and multipurpose room of the Ewigleben Sports Complex.
Center for Leadership, Activities and Career Services Coordinator Michele "Mickey" Albright said some new partners collaborating in this year's fair include Next Step Ministries, who are seeking mission trip staff and organizers, the Federal Drug Enforcement agency, Occidental Link, from Beijing, China, who are looking to make international placements, and the Chicago Teacher Residency program, offering educational opportunities.
"There are also a variety of federal, state and local government jobs," Albright said. "This annual event leads to hundreds of internships and full-time job placements for Ferris State University students and alumni. This will be the largest networking event on campus this year, hosting the most diverse employment opportunities at once. All participants are encouraged to take advantage of this chance to practice their professional skills, discover new career options and engage with employers."
Albright said the CLACS office will have two preparatory events in their "Get A Job!" series ahead of the Career and Internship Fair. Each will be held at 11 a.m., on consecutive Tuesdays, Oct. 3 and 10.
"The first session will provide some general tips to all students who are preparing for the fair, on Oct. 12," Albright said. "On Tuesday, Oct. 10, we will review our recommendations for making your best case during an interview."
Students and alumni are welcome at the CLACS Career Center on Tuesdays and Thursdays, during walk-in office hours from 10 a.m. to 1 p.m. Albright said the staff can assist all visitors who seek to preview employers through the Handshake application, to make use of the career and job search resources. Resume and cover letter reviews are also available at that time, though it is suggested that students schedule a personal appointment, by making a selection through Handshake, in MyFSU.
The attire for participants taking part in the Oct. 12 Career and Internship Fair will be business professional, according to Albright.
"The First Lady's Attic is located in the University Center, available to assist by providing students a free business outfit, for those who need clothing for professional events," Albright said. "This event is organized as both a professional networking opportunity and career development experience for students and alumni."
Albright said those with further questions about the Career and Internship Fair can call the CLACS office at (231) 591-2685, or by emailing the office.


PHOTO CAPTION: The Fall 2017 Career and Internship Fair at Ferris State University will be held Thursday, Oct. 12, from 10 a.m. to 3 p.m., in the Jim Wink Arena and multipurpose room of the Ewigleben Sports Complex. More than 250 employers are expected, with internship and job opportunities available.