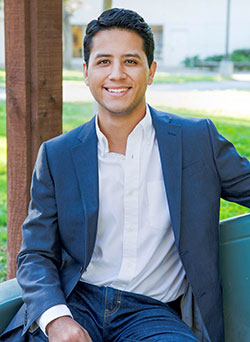 Students at Ferris State University will hear from an advocate for change on Wednesday, Oct. 18, as Andres Chavez, the grandson of iconic labor leader and civil rights advocate Cesar Chavez will speak at 3 p.m., in Room 131 of the Interdisciplinary Resources Center.
The university's Center for [email protected] Studies has offered a number of [email protected] Heritage celebrations on campus in the last month. CLS director Kaylee Moreno said they are excited to offer students and the community the chance to hear from Chavez.
"Cesar Chavez remains well respected for his organizing efforts in the 1960's," Moreno said. "Andres has acted, and spoken out about immigration reform, joining rallies, picket lines and other demonstrations, as he has advocated for various civil rights issues. Our event will include a question-and-answer opportunity for the students and community members who attend."
Chavez' itinerary will include visits to Grand Rapids Union High School and Grand Rapids Community College, prior to his Oct. 18 visit to the Ferris campus. The schedule for Thursday, Oct. 19 includes a breakfast at Aquinas College, a presentation at Davenport University, and a visit to Cesar E. Chavez Elementary. A group of Ferris State University staff and students will attend the 13th Annual Cesar E. Chavez Scholarship and Community Awards Gala, which will be held in Grand Valley State University's Eberhard Center. Andres Chavez will be the gala's keynote speaker.
"With Andres making a visit to the region, we hope that everyone will take the opportunity to hear his message," Moreno said. "Millennial-age [email protected] students need to understand their capabilities as prospects to promote change in our society."
Anyone with questions, or requests for assistance with accommodations to attend the Oct. 18 event in the IRC can contact the CLS Office.
PHOTO CAPTION: Andres Chavez, the grandson of iconic civil rights activist Cesar Chavez, will speak in Ferris State University's Interdisciplinary Resources Center on Wednesday, Oct. 18. Chavez' event is scheduled from 3 to 5 p.m. in IRC Room 131, and is open to students, faculty, staff and the Big Rapids community.