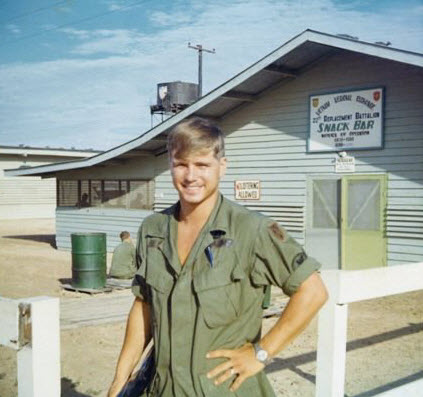 An organizing committee of Ferris State University staff and administrators will offer current and past military members the opportunity to gather and be recognized Friday, Nov. 10, at the annual Veterans Day breakfast.
Jacob Schrot, the university's coordinator of Veteran Recruitment and Outreach, said the breakfast is sponsored by the President's Office and will be hosted in the University Center ballroom.
"We will start the program directly, at 8 a.m.," Schrot said. "We traditionally have had the National Anthem performed, as we begin, and the colors will be presented. There are a good number of student veterans we expect to see, that morning, and we always welcome any former servicemen or women from the area to be with us for the meal and program."
Schrot said recent Congressional Medal of Honor recipient Jim McCloughan, of South Haven, will be the special guest and speaker, at the breakfast.
"We are honored to have his support and are very excited to have him take part in the breakfast and program," Schrot said. "He received his Medal of Honor on July 31, this year, and was inducted into the Pentagon's Hall of Heroes on Tuesday, Aug. 1. His story of bravery, as a combat medic in the U.S. Army, is inspirational."
McCloughan had a tour of duty in Vietnam, from March 1969 to March 1970, and is credited with saving the lives of 10 soldiers, most notably in the battle of Nui Yon Hill. He had been drafted after completing his pursuit of a teaching degree at Olivet College, where he was a three-sport athlete.
Veterans of military service will also be honored as the FSU West Central Concert Band will offer its 15th annual Veterans Day concert on Sunday, Nov. 12, beginning at 4 p.m. in Williams Auditorium. Music from all five branches of the Armed Services will be featured in the program, and those who are, or have served in the military will be invited to stand, along with their families, during the appropriate anthem.
Free tickets for the Nov. 12 concert are available through the Williams Auditorium Ticket Office.


PHOTO CAPTION: Retired Army medic James McCloughan, a recent recipient of the Congressional Medal of Honor will speak at Ferris State University's annual Veteran's Day breakfast Friday, Nov. 10. The meal and program, including an address by McCloughan will begin at 8 a.m. Current and former members of the military from the University, and Big Rapids community are invited to attend. (Photo courtesy James McCloughan)