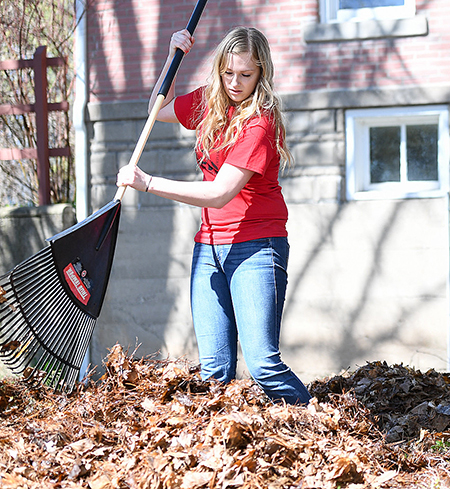 With much of the fall color scheme spreading across lawns on and near Ferris State University's campus, the Student Alumni Gold Club and other campus and student groups are encouraged to support Rake N' Run, on Sunday, Nov. 5.
Alumni Relations Coordinator Kevin Bunce, advisor to the Student Alumni Gold Club, said the outreach effort has grown since around 50 students took part in the initial program, in 2007.
"Several hundred volunteers work collaboratively on cleaning up these properties," Bunce said. "The Student Government Association and the Student Alumni Gold Club provide the rakes and assign our supporters to the people in need. It's a great way for students and registered student organizations to offer some volunteer hours."
SAGC President Kaylee Aldrich of Frankenmuth, a senior in Pre-Optometry, said a mass email will be sent to students explaining this opportunity. Faculty and staff will be invited to support Rake N' Run in a university-wide notice.
"We have structured this event as a random act of kindness. So, we hope to work on many yards before we are asked to offer our help," Aldrich said. "This is a good way for a small group of students from the same floor of a residence hall, or an RSO, to get out into the community and do some good in Big Rapids."
Bunce said the plan is to start offering this assistance at 9 a.m. on Sunday, Nov. 5, and to wrap up the effort by 2 p.m.
"We remind all our participants to register with OrgSync before Rake N' Run day," Bunce said. "Another important thing to bear in mind is that we will return to Eastern Standard Time before the event, so make sure to turn your clock back an hour, before you go to bed on Saturday, Nov. 4."


PHOTO CAPTION: Hundreds of Ferris State University students, faculty and staff are expected to volunteer their time on Sunday, Nov. 5, in the 11th annual Rake N' Run. This service opportunity is intended to support Big Rapids area residents who would otherwise struggle with lawn work, ahead of wintry weather. The image is a scene of a student raking during The BIG Event.