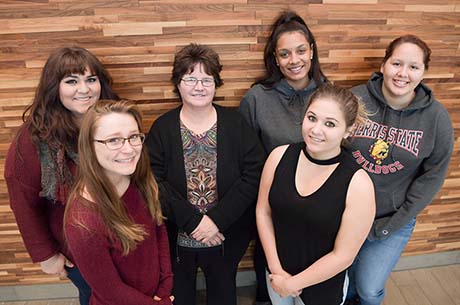 Grant funding has been secured from the state of Michigan to support a Ferris State University program designed to provide assistance to students raised in the foster care system.
The three-year award, which provides $115,960, annually, supports the duties and efforts of the Independent Living Life Skills Coach, who has a lead role in coordinating activities of the Ferris Youth Initiative, which has, on average, 15 student participants per year. Janette Ward, an alumna of Ferris' Criminal Justice program, has served in this role since October 2012. Ward said each FYI student has a mentor. The student and mentor meet for four hours each month during the academic year.
"This is a really dynamic group of mentors who really give of themselves to help these students," Ward said. "We are trying to make the world a better place for these students, and I am confident that our founder, Woodbridge Ferris, would be pleased by the efforts made in this program."
The faculty and staff mentors received the Distinguished Team Award, in 2016, in recognition of their efforts to support the FYI program.
Ward said she also has monthly meetings with all students in the Initiative as well as small-group and individual sessions.
"We have discussions on problem-solving and other skill development that will be helpful to them in their studies, careers and lives," Ward said. "We also plan events that provide our students with new perspectives. We have had them visit the ropes course, at Eagle Village, with their mentors. That gives them insight on building trust and participating in these activities helps them develop character."
Nicholas Campau, the associate dean of Student Life and director of Student Conduct, said the grant provides $115,960 a year. After the initial three-year term, two one-year funding extensions can be sought. The FYI program started with a slightly larger annual stipend from the Department of Health and Human Services over a five-year contract. Campau said beyond assistance to operate the Initiative, the university provides considerable assistance, in the form of scholarships, to help these students meet the financial demands of higher education.
"It shows that Ferris is vested in the growth and success of these students and their pursuit of excellence," Campau said. "The Diversity and Inclusion Office, headed by Vice President David Pilgrim, gives special attention to these students having the necessary resources and opportunities."
Ward said a student pantry was recently established to help the students easily acquire classroom supplies and personal-care items along with other basic necessities.
"This helps our students readily get an item they might need," Ward said. "They are pleased to have these goods readily available."
Ward said instilling the foci of Independent Living, Mentorship and Scholarship with FYI students has produced many success stories, which she has witnessed during her time with the program. Some participants have gone from their days as new students, on campus, to graduation and entry into career paths while some of them have pursued new educational challenges.
"We have students who were part of the Initiative that have entered law school, and begun graduate-degree programs," Ward said. "One has earned a role as a graduate assistant. We are excited when they report back on their securing full-time employment, following their graduation. It is important they understand that they remain a part of FYI, after they leave us. That continued communication and sharing of success is important to our staff, the mentors and new students who will benefit from the program."
The FYI program has the capacity to accept up to 22 qualified students each year. Those who may meet the requirements to participate, and have an interest in this program are encouraged to contact the Diversity and Inclusion Office, or Ward's office.


PHOTO CAPTION: A group of Ferris Youth Initiative participants gather with their Independent Living Life Skills Coach, Janette Ward, in the University Center. A three-year grant from the State of Michigan was recently secured, to support this program begun several years ago by the university.