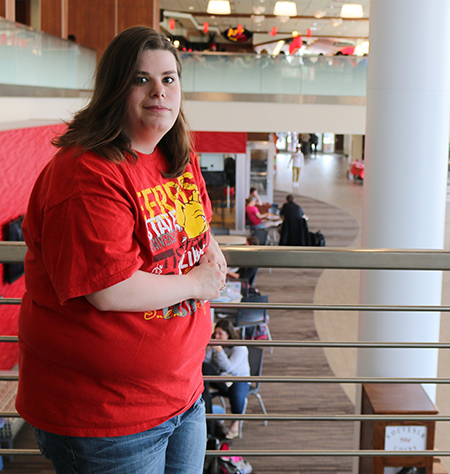 Completing the requirements for a Ferris State University degree represents a goal achieved for many of the 1,900 students eligible to participate in commencement exercises Friday, May 5, or Saturday, May 6. When Katie Steadman heads to the stage of Jim Wink Arena that Saturday afternoon, that act will resonate, not just personally, but also for her parents, and those who supported their daughter's journey to overcome disability, and build the confidence necessary to pursue a profession.
Her father, David Steadman, and Katie's mother, Gloria, joined with other family members in the mid-1980s to leave behind a life of struggles, in Detroit, and move across the state to Avondale, in central Osceola County. While Katie's aunts were able to complete Nursing degrees and assume duties with Spectrum Health-Reed City Hospital, Gloria took what jobs were available, as she did not complete a high school education, and David earned his status as a journeyman while working at the Yoplait factory in Reed City.
"I am the youngest child in the family, and when my sister, Angie, was growing up, we were getting assistance from the state of Michigan, and receiving food boxes," Katie said. "I was the first child in the family not to take free and reduced lunch assistance."
David Steadman was insistent that his daughter keep a focus on excellence in her education, and to achieve a bachelor's degree.
"He would say, 'You should pursue a degree, your aunts were able to become nurses,'" Steadman said. "He knew, from his experience, that a degree was an important component to have a better life."
She said that as a student at Pine River High School, she was in the minority, to be considering higher education, after earning her diploma.
"I had made honor rolls, in high school, and counselors and instructors, who were aware of my disabilities, suggested that I consider Baker College, in Cadillac," Steadman said. "I never applied to another school, as I felt I was meant to go to Ferris."
She decided to step outside her comfort zone in choosing a curriculum when she arrived at Ferris, entering the Television/Digital Media Production program.
"I loved watching movies, and would pick apart what I was seeing," Steadman said. "Communicating with my classmates about projects was my strong suit, while the technical aspects of TDMP, specifically operating equipment, was somewhat daunting."
She did learn the importance of applying herself, and being punctual as a result of her early studies.
"I have made it a point to be early for any appointment or class session and to always be prepared," she said. "My professors have told me they don't have to worry about my being there and whether I was ready to participate in class."
Given her family finances, Steadman has opted to commute to her classes at Ferris, rather than live in the residence halls or other area housing.
"I appreciate the opportunity to say I am from this area," she said. "If some of my classmates or other associates think of Big Rapids as a small community, I can give them some perspective on what small-town living actually is."
David Steadman's employment, at Yoplait, offered Katie some financial support for her college studies, but she has had to adjust and adapt as she continued her education at Ferris.
"After having open heart surgery, Dad had to step back from his duties," she said. "I had decided to change my major to Applied Speech Communication, and joined Ferris' debate team. That involvement has afforded me the chance to get some scholarship support, which I really needed."
Steadman said her three years of participation with the debate team have provided her with a variety of rewarding experiences, if not trophies.
"I've loved it, though I may not be the best member of the team," Steadman said. "I make sure I am prepared, and give each competition my best effort. I took part, not to win, but to benefit from the experience. To me, being in debate is not all about winning."
The experience also gave Katie a larger view of the country.
"We are pretty much homebodies. We don't have many chances to see our family in Kentucky very often," Steadman said. "Being on the debate team has allowed me to attend competitions in Boston, and the state of Idaho. I had never flown before, and now, I feel like I can help others manage their travel agendas."
Katie has been named to the Dean's List in three of her years at Ferris, and received an award from the College of Arts, Sciences and Education. She has also been a student representative to the Liaison Committee for Students with Disabilities.
"It has been a great experience to work with people who are trying to make a difference for others," Steadman said. "It has allowed me to experience event planning and get involved in reviewing how students' needs are being met."
While making a change in majors from the TDMP to the Applied Speech Communications program, Katie still holds an appreciation for those in her former curriculum.
"Operating technical machinery, and making similar applications was a bit outside my skillset," she said. "I respect those people, in particular, and have been glad to see and know women who have excelled in those efforts."
Steadman has prepared for her career by completing internships with Habitat for Humanity-Mecosta County, as well as the Educational Counseling and Disabilities Services office, on campus.
"I made a presentation during Disability Awareness Month, in 2015," Katie said. "It was focused on how disabilities were presented in the media, and popular culture. I have been troubled for some time by some of the connotations that were present in these works."
Steadman added that her time on the debate team has helped her to meet the demands of her internship, and higher-level ASC classes.
"I have been able to use the analytical and aggressive aspects of presentation," she said. "I had to learn to handle questions and conflicts in debate, which has boosted my self-confidence, and to develop skills I can transfer to service as a professional."
Katie has an eye on her participation in commencement, as a friend who has taken a special interest in her studies at Ferris will join her parents at the ceremony. If there was a "dream job" that came her way, Steadman would hope to join the staff or management of a non-profit corporation, in this region.
"My time at Ferris has given me a new perspective on life, a sense of who I am and what I will do," she said. "Many people I grew up with did not make these choices and are still close to their homes and the lives they led as younger students. I feel like this is a big achievement, succeeding at something that people may not have thought I would, or could do. Still, it is hard to think of breaking my family ties, as I consider a career. I worry about my family, which may not be the perspective every student has."


PHOTO CAPTION: Katie Steadman, of LeRoy, will graduate on Saturday, May 6, from Ferris State University with a Bachelor of Science degree in Applied Speech Communication.