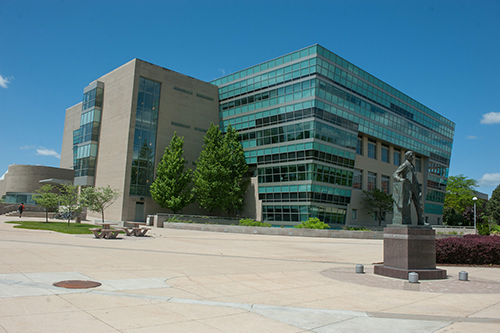 Preparations for large-scale usage of the Shoah Visual History Project will advance in earnest Monday, May 22 and Tuesday, May 23, as 20 Ferris State University faculty and staff members will participate in a training session, to acclimate them with the vast and sophisticated educational resource.
Humanities Professor Barry Mehler, Ferris' director of the Institute for the Study of Academic Racism said word spread quickly on campus about the research prospects presented by this archive of Holocaust testimony and other acts of genocide. He is pleased by the size of the group committed to participate in this training.
"I did not expect this kind of response from the faculty with the considerable amount of reading and time investment that is required for this training," Mehler said. "Advanced, unique research can be accomplished by undergraduate students who use the archive, something that was never available at Ferris before."
Mehler said the experts coming to campus to lead the training include S.J. Crasnow and Martha Stroud, from the USC Shoah Center for Advanced Genocide Research; Kenneth Waltzer, professor emeritus in Jewish History; and former director of Michigan State University's James Madison College, Deb Margolis, MSU's librarian for Anthropology and Middle East Studies; and Mehler's brother, Peter, who is Emeritus Rabbi and director of the Leadership Center West. Henry Greenspan, University of Michigan psychologist and playwright, will offer his insights to the trainees via teleconference, on Tuesday, May 23.
Mehler was also pleased that students in his spring semester classes took the opportunity to make use of the Shoah Archive, with their journal entries indicating an immense respect for the qualities of the testimonies they found, and the variety of information they discovered.
"These are powerful testimonies to consider, as they address societal aspects of bullying or the more common themes like foreign language study," Mehler said. "The design of these materials facilitates research, but an untrained student can access materials and gain from exposure to the archive by saving materials into their own project. This is a tool that impacts people, a treasure for us that gives indications of being a significant seed as an educational resource here. It is clear that the archive will have an enormous impact on our students and community."
The Shoah Foundation Visual History Archive is based at the University of Southern California, and Ferris' virtual license has been supported by Mickey Shapiro, a Detroit-area businessman and real estate developer. Mehler said he was pleased to hear Shapiro's address at a Spring 2017 commencement ceremony, Saturday, May 6. Shapiro's formative college experience came at Ferris, after academic struggles in high school. He improved in his classwork, and Shapiro ultimately graduated with a Bachelor's degree from Michigan State University.
"This is a very modest man, for all that he has accomplished, to freely address his academic beginnings," Mehler said. "We are so thankful to him for this opportunity to benefit our university community and others thanks to the potential of the Shoah archive."
Ferris joins the University of Michigan and Michigan State University as the only schools in Michigan who have access to the Shoah Visual History Archive Project.
An announcement, expected in Summer 2017, will offer specifics on a celebration of the university's acquisition of Shoah archive access, with Shapiro welcomed as the guest of honor for this Fall symposium.


PHOTO CAPTION: The Shoah Foundation Visual History Archive has recently gone active as a research opportunity at Ferris State University's Library for Information, Technology and Education, or FLITE. Over 54,000 individual stories of the Holocaust, and various incidents of genocide are cataloged, and addressable and referenced content on a wide variety of subjects.