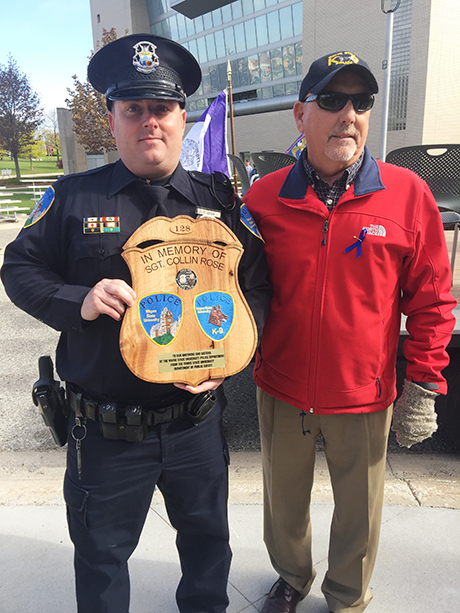 The 2017 Police Memorial ceremony at Ferris State University highlight video.
Hundreds of students, supporters and law enforcement officers gathered outside the Ferris Library for Information, Technology and Education Tuesday morning, May 9, as Ferris State University held its 14th annual Police Memorial ceremony.
Ferris Department of Public Safety Director Bruce Borkovich was master of ceremonies, for the program, which was attended by officers from the Michigan Department of Natural Resources, sheriff's departments from around the region, municipal police forces, and department of public safety police forces from around the state of Michigan.
"I am pleased to see Ferris Criminal Justice graduates, who are now members of the Grand Rapids and Muskegon Police departments, respectively, along with other alumni," Borkovich said. "It gives you a good feeling to see this kind of response and respect offered for fallen officers."
Borkovich presented a plaque to the Memorial's main speaker, 2002 Ferris Criminal Justice graduate Troy Eaton, an officer with the Wayne State University Department of Public Safety. Eaton, a 13-year veteran of the WSUDPS, offered his celebratory remembrance of Collin Rose, a 2010 Ferris graduate and Wayne State K-9 officer, who died in the line of duty on Nov. 23, 2016.
"We had met at a fraternity gathering, before Collin had completed his studies at Ferris," Eaton said. "I was immediately struck by his wide, beautiful and infectious smile, and learned of his unwavering willingness to help others."
Eaton told the audience that Rose established himself as a presence within the Department of Public Safety, and mixed his professional and courteous manner, even when making an arrest, with a playful, even "goofy nature" in his relationships with his fellow officers.
"His work with our K-9 unit, with Clyde and Wolverine, exemplified his skill, dedication and talent," Eaton said. "I remember and cherish knowing him as a brother, in many respects."
Eaton concluded his remarks by noting the scholarship efforts that have developed at Wayne State and at Rose's alma mater, Gull Lake High School, that seek to continue his legacy of service and excellence.
"We all have memories of Collin, which will always be in here, (pointing to his heart) and they will be in (pointing to his mind) here," Eaton said.
Randy Rose, of Richland, Collin Rose's father, was among the honored guests at the Police Memorial.
"It was nice, not only for the thoughts that Troy offered about Collin, but to hear the consciousness of others, like Rev. Dan Clise's invocation, which sought to raise awareness of the 'blue community,'" Rose said. "These officers deserve our respect and support because they do an incredibly difficult job."


PHOTO CAPTION: Wayne State University Department of Public Safety officer Troy Eaton, a 2002 Ferris State University Criminal Justice graduate, joined Randy Rose, of Richland, following the 14th annual Police Memorial Tuesday, May 9. Rose's son Collin, a 2010 Ferris CJ graduate, died in the line of duty Nov. 23, 2016. The plaque, presented by Ferris' Department of Public Safety, commemorates Rose's life and service.