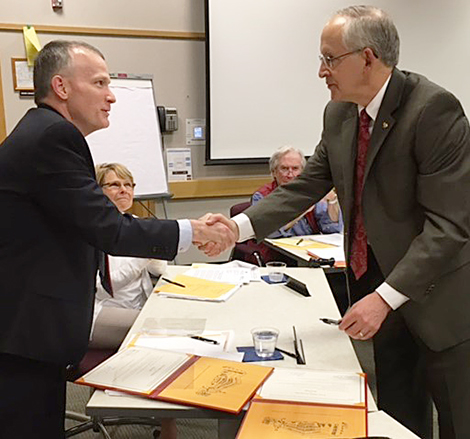 GRAND RAPIDS, Mich. – Students across Kent Intermediate School District who earn college credit through concurrent enrollment at Ferris State University now have the opportunity, upon graduation, to receive a $1,000 scholarship aimed at creating a seamless transition to post-secondary education at Ferris State University.
At its regular Board of Education meeting Monday night, May 15, Kent ISD and Ferris announced the creation of the Ferris NEXT Scholarship for Kent ISD students. This $1,000 scholarship, renewable for up to three years, will be awarded to students who have graduated from a district within Kent ISD; are admissible for a degree-granting program at Ferris; are enrolling full-time at a Ferris site within one year of graduation; and have successfully earned a C or better in at least three credits through a Ferris collaborative high school agreement.
"I am very appreciative of the strong educational partnership we have with Superintendent Ron Caniff and the faculty, staff, students and parents of Kent ISD," said Ferris President David L. Eisler. "The Ferris NEXT scholarship creates a seamless transition to Ferris, in addition to reducing costs and shortening a student's time to degree, which are both top priorities at our university."
Students in several districts are earning college credit from Ferris. For example, at Kent Career Tech Center, Ferris began offering the Woodbridge Ferris Early College Program to students in the fall of 2012. This program gives students the opportunity to earn college credit through dual and concurrent enrollment classes offered at the Tech Center. The number of students taking Ferris courses there has steadily increased since the inception of the Early College Program. Currently, 229 students are concurrently enrolled, up from 184 students in the spring 2016 semester. Since 2015, Tech Center students have earned 1,641 credit hours from Ferris through the Early College Program.
"We are thrilled with this generous scholarship from our partners at Ferris State, and know this brings great news to hundreds of students across our region," said Ron Caniff, superintendent of Kent ISD. "At the Tech Center alone, this scholarship could mean nearly $1 million if all 229 students took advantage of it for four years. We have always been so appreciative of the opportunities FSU has brought to students – this is like icing on the cake."
In addition to the 23 concurrent courses taught at the Tech Center, additional high-tech courses will be added this fall: 3D modeling-animation 1 and 2, digital imaging, computer networks 1 and 2, and computer programming 1 and 2.
Ferris State University is a four-year public university with campuses in Big Rapids, Grand Rapids and satellite campuses across the state of Michigan. Ferris offers more than 180 educational programs, including doctorates, master's, bachelor's and associate degrees, through eight academic colleges: Arts, Sciences and Education, Business, Education and Human Services, Engineering Technology, Health Professions, Kendall College of Art and Design, Michigan College of Optometry and Pharmacy.
Kent ISD is a local educational service agency devoted to achievement for all students and known for innovation. We serve the community by helping schools prepare students to be successful in work and life. Our primary customers are the students, teachers, staff and administrators of 20 Public School Districts, Christian and Catholic Schools and Public School Academies – a total of 300 schools.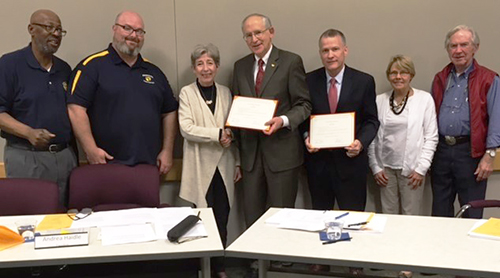 PHOTO CAPTIONS: (Top photo) Ferris State University President David L. Eisler, right, is shown shaking hands with Kent Intermediate School District Superintendent Ron Caniff, left, at KISD's regular Board of Education meeting on Monday night, May 15. (Bottom photo) President Eisler and Superintendent Caniff are shown with the KISD Board (left-right): Bill Joseph, Jeff Drake, Andrea Haidle, (Eisler and Caniff), Claudia Bajema and Fred Thorne.