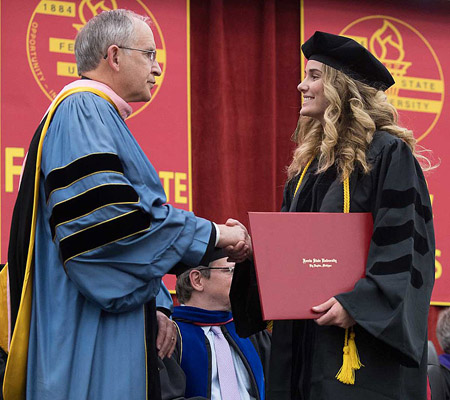 Heartfelt motivational speeches, shared by three honorary doctorate recipients, were among highlights of Ferris State University's Spring 2017 ceremonies, May 5-6, in Big Rapids.

Spring commencement kicked off Friday with a mid-afternoon College of Health Professions ceremony followed by an evening session for graduates from the Doctorate in Community College Leadership program, the College of Arts, Sciences and Education and the College of Pharmacy. Commencement concluded, Saturday, with a morning ceremony for College of Engineering Technology graduates, an early-afternoon session for the College of Business and a mid-afternoon session for the Michigan College of Optometry and the College of Education and Human Services. This spring, approximately 1,900 students earned Ferris degrees.

President David Eisler addressed Class of 2017 members with messages of pride as he saluted their achievement and further acknowledged the graduates' families, friends and others who played roles in this success.

"As a university community, we are immensely proud of each of you. It is a true honor to stand before you, the Class of 2017," he said told the large crowds in ceremonies hosted in Jim Wink Arena. "This is a wonderful opportunity for you to reflect on your accomplishments, here, at Ferris State University. Your success is built upon the collective efforts of so many people who care about you and take great pride in your growth and development."

Featured speakers were Ferris' 2017 honorary doctorate recipients: Mary Garvelink, an alumna as well as the president and principal owner of Commercial Design Engineering, of Colorado Springs, Colo.; Jeff Rowe, an alumnus and a retired executive vice president of Diplomat Specialty Pharmacy, from Flint; and Mickey Shapiro, a financier and developer, from Bloomfield Hills. Each will speak at commencement ceremonies germane to their professional experiences. Garvelink was the recipient of an Honorary Doctorate of Business and Industry, Rowe was an Honorary Doctorate of Health Services and Shapiro was an Honorary Doctorate of Business and Industry.

Addressing College of Health Professions graduates, Rowe spoke of the value of a college degree and of being appreciative of people who played a positive role in their successes.

"Nobody gets to this point in life without people supporting you," he said. "I hope you realize how lucky you are to get a college education. It is a great gift. Many people don't have such a chance. Getting a college education is one of the big check boxes that will allow you to be successful in life. If there's someone special, who helped you get to this point, make sure you go out and thank them."

Garvelink's address to College of Engineering Technology graduates was in part a reflection on her own Ferris history, her ongoing connection to Ferris and words of wisdom to prepare graduates for what awaits them.

"Today, we're celebrating the 2017 graduating class, a class I was in, 45 years ago. This brings back many memories and I'm so happy for all of our graduates and I want to personally congratulate each of you," she said. "One of the pillars of Ferris' mission statement Is to prepare students for successful careers. Each of you has completed a first step in a successful career, by graduating. Another pillar is to prepare students for lifelong learning. I encourage you to always be curious, always ask questions. I can't put enough importance on asking questions. Keep learning. Be prepared for those unexpected surprises."

Shapiro, addressing College of Business graduates, spoke about opportunities Ferris afforded him while he encouraged Class of 2017 graduates to recognize opportunities and be prepared to take advantage of them.

"Ferris gave me an opportunity to apply myself and I took at advantage of it … small class sizes and faculty who care provided me an environment that helped me become a better student," he said. "I encourage you to take advantage of every opportunity you get and don't let it pass you by.
Shapiro added, "My mother always wanted a doctor, in the family, and you have made her very happy."

Follow the conversation, in social media, by visiting the Facebook, Instagram and Twitter accounts. Also, in social media, follow #FerrisGrad2017.


PHOTO CAPTION: Ferris State University celebrated commencement ceremonies for the Class of 2017 over a two-day period, May 5-6, on main campus in Big Rapids. The ceremonies were hosted in Jim Wink Arena.