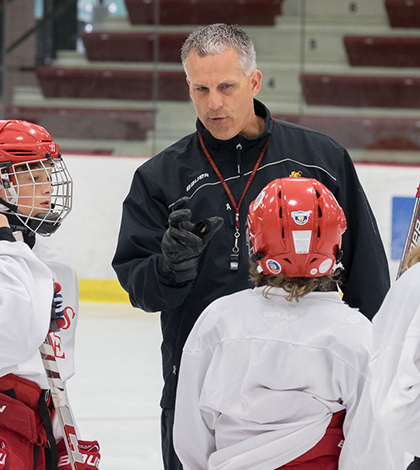 More than 4,000 middle and high school students from the Big Rapids area, across Michigan and beyond will visit Ferris State University as participants in approximately 60 summer camps for athletes competing in individual and team sports.
Athletic Camps Coordinator Gary Wendlowsky has been pleased with early registration for Ferris' summer athletics camps.
"I make sure to visit with athletic department officials at their schools as well as ice rink managers and other contacts each year," Wendlowsky said. "We have also added staff, in Auxiliary Enterprises, to increase our social media presence. So, we expect to see more than 4,000 campers participating with their teams or visiting as individual athletes."
Included in the schedule are basketball camps as well as camps for football, hockey, golf, soccer, tennis and volleyball. One of the unique highlights, from this summer's schedule of camps, will be the football team's "Elite Exposure Camp Tour" that includes a stop in Illinois, a home session and sessions at several other stops around Michigan. Wendlowsky noted that the six satellite football camps begin Monday, June 12 at Lincoln-Way West High School, in New Lenox, Ill.
"We gave more than 600 athletes an opportunity to make contact with Ferris' football coaches and display their skills during our 2016 camp schedule," Wendlowsky said. "I believe the Bulldogs' success on the gridiron, in arenas or other competitive venues are the best marketing that can be done for these programs."
The full camp season begins June 3 with Exposure Camp 1 for boys' basketball players, in grades eight to 12. Also beginning June 3 is the Players Showcase Girls golf camp for players entering the 11th or 12th grades, or graduating from high school.
Auxiliary Enterprises can be contacted on a toll-free line, (866) 950-2267, and can be reached by email for any questions about summer athletic camps.
Ferris is coming off a successful season of athletics. The men's golf team, competing the week of May 22, has advanced to the national quarterfinals of the 2017 NCAA Division II Championships. The football team reached the NCAA Division II National Semifinal, in Fall 2016, after winning the Super Region Four championship. The volleyball team won GLIAC regular-season and tournament championships for a third-straight year and hosted the NCAA Division II Midwest Regional Tournament, where it finished as runner-up. The men's basketball team won the 2016-17 GLIAC basketball regular-season and post-season championships, and reached the NCAA Division II Tournament for a consecutive straight year. The hockey program was a Western Collegiate Hockey Association playoff participant while the men's tennis team won the 2017 GLIAC Tournament on April 23.


PHOTO CAPTION: Ferris State University Hockey Associate Head Coach Drew Famulak works with youth summer campers during a session inside the Ewigleben Ice Arena. Hockey will be among the numerous Ferris sports sponsoring campus during these summer months of 2017.