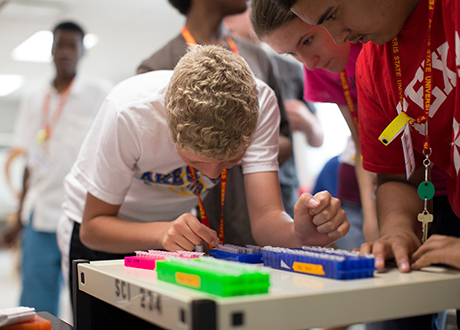 Students who are 12 to 18 years old are encouraged to pursue their areas of academic interest, at Ferris State University, by attending day camps or supervised and guided residential camps, throughout the summer, beginning Sunday, June 18 on the Big Rapids and Grand Rapids campuses.
Camps and Conferences Coordinator Kale Tissue said dozens of youngsters from the Big Rapids area, statewide and even outside of Michigan will have opportunities to consider Ferris' academic programs while gaining expert guidance in their technical or scientific subject of interest.
"We are pleased to offer our cybersecurity and architecture camps as both have increased enrollment numbers this summer," Tissue said. "We have a continued strong interest in our HVACR (heating, ventilation, air conditioning and refrigeration) camp, along with a variety of digital animation and game design programs in Grand Rapids."
Middle school-aged students, in the Big Rapids area, are encouraged to consider the Inventor's Camp, which will be hosted Sunday, July 16 through Wednesday, July 19.
"Campers will get to enjoy their time in Ferris residential halls with on-campus meals," Tissue said. "There are a number of activities like swimming, games and team-building exercises, with 24-hour staffing in the residence halls."
The sign-up for summer academic camps is underway and available online, according to Tissue.
"Our first camps begin on June 18, and we ask that interested families register at least two weeks prior to the start of their session," Tissue said. "We are willing to consider later registrations, but ask that those interested persons contact the Conference and Professional Services office by phone or visit us in the Alumni Building."


PHOTO CAPTION: Summer academic camps offered by Ferris State University will begin on Sunday, June 18, with residential camps, and day camp offerings on the main campus in Big Rapids, and in Grand Rapids.