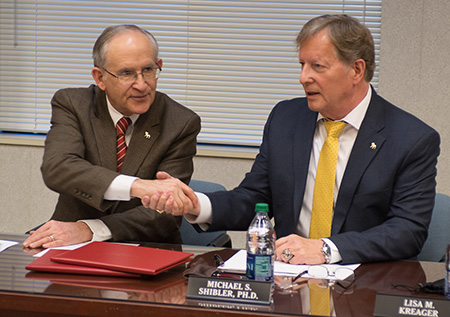 ROCKFORD, Mich. – What started out in the Fall of 2013 as an educational partnership between Rockford High School and Ferris State University has evolved into not only providing Rockford High School Students the chance to receive college credit through concurrent enrollment at Ferris, but now the opportunity to receive a $1,000 scholarship for up to four years.
At its regular Board of Education meeting Monday night, Rockford Public Schools and Ferris announced the creation of the Ferris NEXT Scholarship for Rockford High School students. This scholarship will be awarded to students who have graduated from Rockford High School; are admissible for a degree-granting program at Ferris; are enrolling full-time at a Ferris site within one year of graduation; and have successfully earned a C or better in at least three credits through a Ferris collaborative high school agreement.
"Rockford High School and its superintendent, Dr. Mike Shibler, have been wonderful partners with Ferris State University," said Ferris President David L. Eisler. "I am delighted this scholarship will build upon our efforts for a concurrent education and help these students continue on to earn their degree at Ferris State University with this additional support."
In the Fall of 2013, Ferris began offering the Woodbridge Ferris Early College Program for Rockford High School students. This program gives students the opportunity to earn college credit through dual and concurrent enrollment classes offered at the high school. The number of Rockford High School students taking Ferris courses has steadily increased since the inception of the Woodbridge Ferris Early College Program. Currently, 153 Rockford High School students are concurrently enrolled, up from 73 students in the Spring 2016 semester. Rockford High School students have earned more than 1,900 credit hours through Ferris, and 35 Rockford High School graduates have matriculated to Ferris or Kendall College of Art and Design through the Early College Program.

"Earning college credit in high school has been a life-changing experience for many of our students," said RPS Superintendent Mike Shibler. "The Ferris NEXT Scholarship, for Rockford High School students, will provide an important resource for many college-bound kids to further reduce college debt. We value our partnership with Ferris State University and appreciate the opportunity to provide this important educational option to our students and families."
Ferris State University is a four-year public university with campuses in Big Rapids, Grand Rapids and satellite campuses across the state of Michigan. Ferris offers more than 180 educational programs, including doctorates, master's, bachelor's and associate degrees, through eight academic colleges: Arts, Sciences and Education, Business, Education and Human Services, Engineering Technology, Health Professions, Kendall College of Art and Design, Michigan College of Optometry and Pharmacy.


PHOTO CAPTION: Ferris State University President David Eisler, left, and Rockford Public Schools Superintendent Mike Shibler shake hands to seal partnership in the Ferris NEXT Scholarship for Rockford High School students. The agreement was signed during an RPS Board of Education meeting on Monday, March 13.