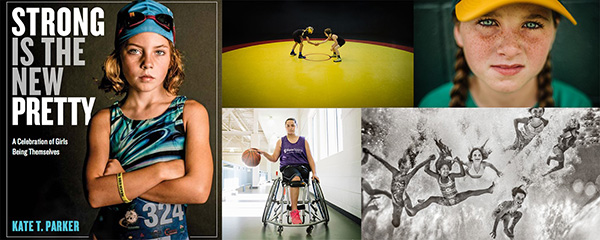 An Atlanta, Ga.-based photographer will visit Ferris State University's Fine Art Gallery Thursday, March 23, with Kate T. Parker scheduled to make a presentation at 6 p.m., and sign copies of her book, "Strong is the New Pretty: A Celebration of Girls Being Themselves," which was released earlier this month by Workman Publishing.
The gallery, located in room 205 of Ferris' University Center, has offered a display of Parker's photographic works since the early weeks of the Spring 2017 semester, and the exhibit continues through Friday, March 31. Fine Art Gallery Director Carrie Stermer said Parker's photographic series delivers a stark and truthful message.
"The idea that beauty comes packaged in the perfect size, the perfect shape or the perfect color is extremely damaging to us all," Stermer said. "Parker has inspired partnerships with organizations like 'Girls on the Run' and 'The Bully Project,' that invest in girls' health and education."
Parker, a former collegiate soccer player is an Ironman competitor as well as a wife and mother. She noted her daughters, now 11 and 8 years old, are inspirational in her work.
"I wanted my girls to know that those images, the ones that captured their true personalities showed their beauty," Parker said. "Strength isn't always loud and feisty. Strength can be in the face of a musician creating music, because it is inside of her. Strength can be measured in giving back to others less fortunate than you, with helping your friend up after a rough day."
The exhibit is available, daily, from 11 a.m. to 6 p.m., and Saturday from 11 a.m. to 3 p.m., through Friday, March 31.


PHOTO CAPTION: Photographer and author Kate T. Parker will visit the Ferris State University Fine Art Gallery Thursday, March 23, to make a presentation on her photographic exhibit, "Strong is the New Pretty," and to sign copies of her recently published book, of the same name.