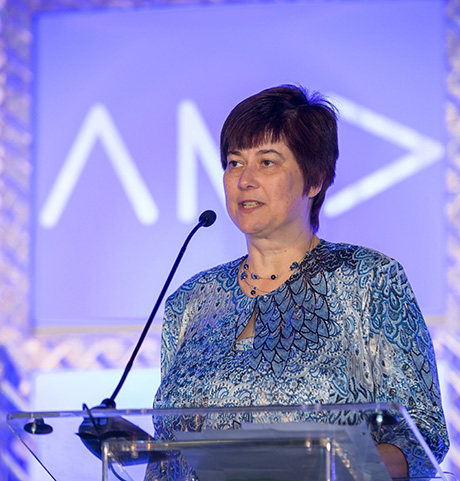 A professor of Marketing has returned from the American Marketing Association's International Collegiate Conference in New Orleans, La. with a Lifetime Achievement Award. Laura Dix combined her work advising Ferris State University's Marketing students with support of the AMA, offering her service for six years to benefit the presentation of the conference.
Dix is in her 15th year as an advisor to the AMA Ferris registered student organization, and said she was honored to be considered for, and to receive the award on Saturday, March 18, at this year's AMA conference, which was held at the Sheraton New Orleans.
"It's humbling to think back on the contributions of other professors and Ferris advisors before me, and to be among those considered," Dix said. "I am happy to have been of assistance to students throughout that time, and to put my stamp on the organization."
Dix said she has stressed the importance of student involvement in professional organizations and gaining benefit from the experience before starting their Marketing careers.
"Competing within the AMA is an important way to show potential employers your skills, and that you can have an impact in your chosen field," Dix said. "AMA Ferris has been a top-25 organization, nationally, for the last seven years, and this year's Case Study team tied for second, nationally, with the prestigious Wharton School of the University of Pennsylvania. Our students' skills are on par with the best institutions in the nation."
Dix said Ferris has produced top-10 results in Case Study competition at the ICC the last four years.
Another aspect of Dix's service recognized by the AMA was her work with the Collegiate Chapters Council, where she served as co-host of the ICC from 2012 through 2016.
"My co-chair and I would be responsible for scheduling professional speakers, and that means 13 for each conference," Dix said. "There are 10 team competitions held at the conference each year, along with various ceremonies. It requires a significant time investment to plan, review and assess all the elements of a conference, which is attended by 1,700 people, including 1,500 Marketing students from across the United States, and other countries."
Dix is drawing close to the end of her career in education, and said she finds satisfaction in the efforts made to promote excellence in Ferris' Marketing program, and throughout the College of Business.
"It was eye-opening to attend those first few conferences, with students, and find that name recognition for the university didn't extend beyond a few schools within Michigan," Dix said. "The opportunity to compete and succeed, at the ICC, has helped Ferris to receive attention on a national scale."


PHOTO CAPTION: Laura Dix, a professor of Marketing at Ferris State University, speaks during the awards ceremony at the International Collegiate Conference of the American Marketing Association, Saturday, March 18 in New Orleans, La. Dix received a Lifetime Achievement Award for her service as an advisor to the AMA Ferris registered student organization, and for co-chairing the annual conference for the Association from 2011 to 2016. (Photo courtesy Pierce Harman Photography)