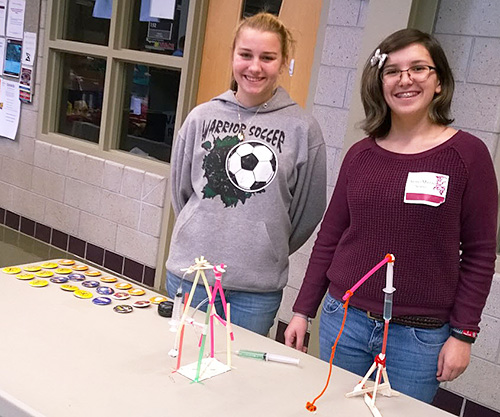 Educators from Ferris State University and west central Michigan school districts will gather Friday, March 17, in the University Center building, to learn from Engineering Education Service Center Director Celeste Baine, during a "train-the-trainer" workshop, a session designed to promote Technology Engineering Aptitude instruction.
Deborah Dawson, the director of Ferris' School of Engineering and Computing Technology, said the university is pleased to continue its relationship with Baine, who has written more than 20 books on engineering education, and was given the Norm Augustine Award, in 2006, by the American Association of Engineering Societies, for "communicating the excitement and wonder of engineering." Baine, whose Engineering Education Service Center is based in Springfield, Ore., facilitated a similar advanced-training workshop for instructors at Ferris in 2014. The goal is to expose adolescent students to potential careers they could pursue by focusing on Science, Technology, Engineering and Math studies.
"When I assisted with programs in Charlevoix, we had students who began with us as eighth-graders, then returned the next year," Dawson said. "We feel it is our obligation to broaden our workshop offerings, so that young men and women can continue to benefit from such programs."
Dawson became certified as a TEA instructor, in 2011, and said Ferris has sought to develop relationships with area school districts in the last several years. Those who participate in the March 17 event will be able to put their training to use Saturday, March 18, as a Parent-Student STEM Workshop is offered in the University Center.
"We have been able to expand our STEM exposure programs, so young men and women who are considering careers in Health Education, as well as the STEM fields could benefit from instruction in workshops," Dawson said. "It's going to be a fun experience for all those who participate."
University Career Programs Specialist Leigha Compson said a Diversity Mini-Grant was received from the Diversity and Inclusion office to support Baine's first visit, and Professional Development Grant support from the College of Engineering Technology has helped a total of five Ferris administrators and instructors become TEA certified.
"We have seen a consistent interest, both on the Ferris campus and from our partner school districts in west central Michigan, for this kind of training," Compson said. "There is also a significant demand from university students, who want to volunteer and support the learning at our workshops."
Compson said registration continues for both the "train-the trainer" and Parent-Student STEM workshops, with further information available online.


PHOTO CAPTION: Education professionals, students and parents will have the opportunity to learn about Science, Technology, Engineering and Math, as workshops will be held Friday, March 17 and Saturday, March 18 in the University Center of Ferris State University.